If you're reading this then you've probably already heard about the Rummy Bears Reapers! Those harmless looking little gummies have developed a cult status among Chilli Heads around the world. Now, the creator of those little beasts brings us their larger, slightly friendlier cousins: The Psychos!
On Sunday the 15th November 2020, the 'UK Chilli Queen' Shahina Waseem, Cem 'Caliente' Dervish and Phil 'Everything Spicy' Patterson were joined by host Lucianno Ferson on the NEUK Chilli Heads YouTube channel to launch this new product as an official League Of Fire challenge. Thank you to all of the above! Watch these well known Chilli Heads launch the Psychos below.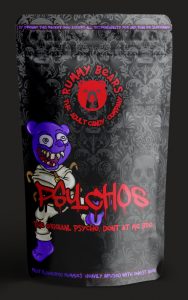 We at the LOF value the opinions of our seasoned competitors and one of the benefits of having three experienced people launch a new product is that we can discuss the challenge with them and decide how many League Of Fire ranking points should be awarded.
So now we can officially confirm that the Psychos Bears are worth 3 LOF points for each Bear eaten along with a bonus point for each consecutive Bear consumed in one sitting. The rules are as follows:-
No food or drink while attempting the challenge.
You must remain on camera at all times until the challenge is complete.
Read the SHORT disclaimer at found at the bottom of leagueoffire.com/disclaimer clearly into the camera.
The Psycho Bear must be opened from a SEALED packet on screen and remain on screen until fully consumed.
After consuming the Bear, show an empty mouth then begin a 3 minute afterburn.
If you remain on screen for the full 3 minutes without 'ejecting' the Bear you have completed the challenge.
You can now go for another Bear if you're brave enough!
We now have a section in our blog with the tag 'Challenge Tutorials'. These have some very useful tips and we do encourage you to get in touch if you have any queries.
We can't wait to see you all conquer these Psychos! The NEW LEAGUE TABLE will be coming soon! Enjoy the BURN!