The much anticipated LOF Rummy Bears World Record attempt took place last night, 16th October 2020 at Blazin' Foods HQ in Fort Mill, South Carolina. Johnny 'The Savage' Scoville had 7 packets of Rummy Bears at his disposal and the goal was to beat 5 complete packs, a World Record previously set by Jared 'The Farmer' Smith.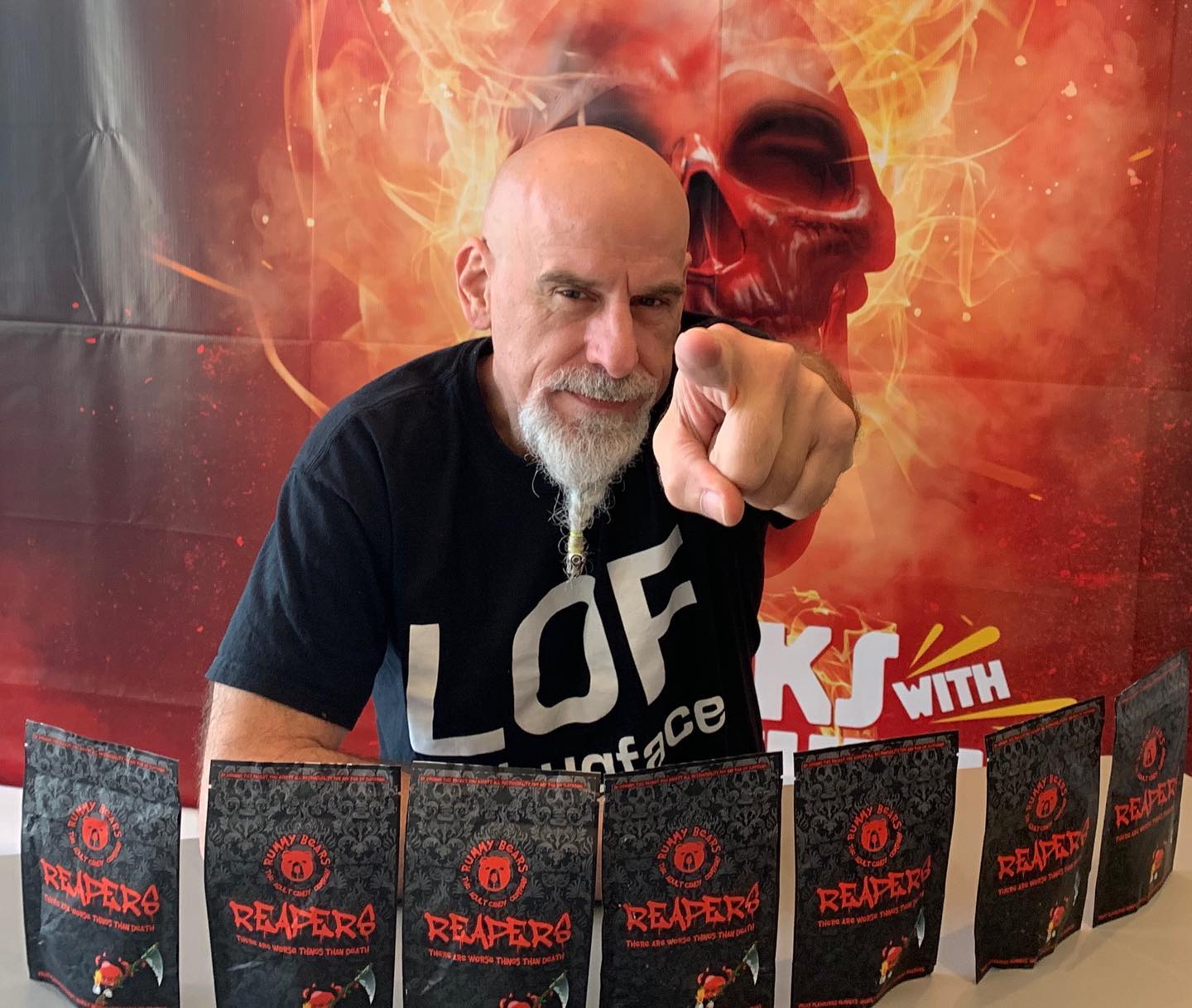 Prior to the event, Jared, who is a founding member of a new chilli enthusiast club 'Sons Of Fire' and Johnny Scoville both agreed that we could have a prize of $100 to a charity of the victor's choice. The concept was simple, Johnny would represent the League Of Fire (LOF) and Jared would represent the Sons Of Fire (SOF). If Johnny beat Jared's record, SOF would donate $100 dollars to Johnny's charity of choice. If Johnny could not eat more than 5 complete bags in one sitting then LOF would donate $100 prize money to Jared's charity of choice.
So to add a fun and exciting edge there was a prize involved and most importantly, a charity would benefit either way. The challenge was ON!
You can see how Johnny did below ↓↓↓ (Spoiler Alert – Only read on if you already know the outcome!)
Johnny 'The Savage' Scoville managed to consume 6 entire packs of painful Rummy Bear Reapers within an hour of pain and extreme competitive chilli eating magnificence! The fact is, he evidently managed to eat a total of 72 of those extremely challenging individual Bears. This is an achievement that not many people on Earth could do.
The video for the challenge was fun and intense to watch and Johnny proved yet again why so many people admire his chilli eating endeavours. After the event, and before a detailed scrutiny of the challenge could be undertaken by the League Of Fire admin team, the following video was uploaded on Johnny Scoville's Chase The Heat YouTube Channel:
Having watched Johnny's response to his own World Record attempt, the main thing we can assert is that the charitable nature of this event is the most important factor to him. He clearly is a sincere sportsman and we genuinely believe that Johnny, as well as Jared and the 'SOF', are truly a credit to the Chilli Community.
The League Of Fire has had the time to review the video and we have been mindful of Johnny's response in our decision to officially declare that Jared 'The Farmer' Smith is STILL the REAPER BEARS World Record holder! We will decide soon about how many LOF World Ranking points to award Johnny for this incredible and inspirational effort. The awarding of points for challenges is at the LOF's discretion and we will be updating Johnny's profile soon.
Finally, and most importantly, The League Of Fire are delighted to credit Jared Smith's designated charity with the amount of $100. The charity is St. Jude Children's Hospital. Please, if you are in a position to help this great cause, please, please, please click the button below to make a donation in Jared's and Johnny's honour.
Donate to St. Jude Children's Hospital
Also, Johnny's charity of choice is The American Foundation for Suicide Prevention. Again, please click the button below should you be inspired to help them out in Johnny and Jared's honour.
Donate to The American Foundation for Suicide Prevention
Thank you to anybody who supported this event. Please check out the Sons Of Fire Official on YouTube and show your support! We would love to hear your thoughts about this epic World Record battle and if you were inspired to donate, let us know in the comments! We want to know how generous and loving you guys are! We will give shout outs to anybody who helps these charities and lets us know!