On the 29th August 2021, Daniel 'Hot Wheelz' Flynn attempted to eat 6 Rummy Bears PSYCHOS in one sitting and set a new League Of Fire World Record.
The Psycho Bear, a single large gummy bear candy that has 'Ghost Naga and a kick of Capsaicin Oleoresin' is not a challenge to be taken lightly. The previous world record was 5 Psycho Bears in one sitting set by James 'Irongut' Harvey.
We were completely flabbergasted by Daniel's amazing achievement and watched in awe as he smashed the world record. Check out the inspirational video below.
We decided we wanted to get to know Daniel a little better after this amazing show of grit and determination and managed to ask the great man a few questions:
LOF: Hi Daniel! Can you tell us about yourself?
Hot Wheelz: I'm born and bred in Townsville, Queensland, Australia and I had my 38th birthday earlier this year. If not for COVID-19 I would be living in Brisbane, Queensland, Australia by now but those plans are on ice at least for a while.
By the time people read this I will be the highest ranked Aussie on both the 'Seasonal' and 'All-Time' LOF rankings but honestly I still see myself as just another chilli-head who loves the community and loves a good burn. I've eaten spicy since I was young, maybe 7 or 8, and started growing Chillies around 20 years ago. The first chilli pepper I ever grew was the Red Savina Habanero. It was back in the days when you had to sign a legal waiver to acquire those seeds! I think they were thoroughly convinced that those chillies were so spicy that they would kill someone some day, oh how times have changes with Carolina Reapers, Bhutlahs, Douglahs, Dragon's Breath and a host of varieties now available that make the Red Savina look positively mild by comparison!
When I'm not eating insanely spicy things I work in disability advocacy helping to shape the future direction of Australian society to hopefully create a more equitable, just and liberated society for all people regardless of their ability.
I guess the other question I get asked a lot is: 'how did I get my name "Hot Wheelz"? No, it has nothing to do with the toybox cars of a similar name! It's a name I've had for around 25 years back in my high school days due to being a wheelchair user. And when I started growing chillies and eating super-hots the name just kind of followed me and stuck.
The other obvious question I get asked is why am I in a wheelchair? I used a wheelchair for most of my time in middle and high school due to the degenerative effects of Spina Bifida, a disability I was born with. I then acquired a Spinal Cord Injury at the age of 18 that has left me with quadriplegia, so I now have varying degrees of loss of movement and sensation from around the mid chest down.
LOF: You clearly are a man who is brimming with valour and determination. Tell me, what made you decide to become a competitive chilli-eater? Is this just a bit of fun, or do you consider this to be a type of extreme sport? What drives you?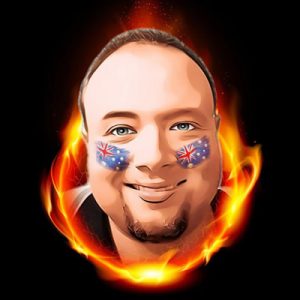 Hot Wheelz: I've always enjoyed eating spicy but I guess this really started around 20 years ago when I ate my first super hot. I quickly realised that my abnormally high pain tolerance allows me to build my spice tolerance rapidly and quite easily.
I'm certainly not a competitive eater and both speed and volume are my biggest nemesis, but heat and pain haven't managed to stop me yet. I eagerly await an opportunity to compete in a group chilli eating competition when the pandemic is finally behind us as due to the volume, I see this as more of a challenge for myself than most of the challenges I have done.
What drives me? I guess I like to challenge myself, I'm not in it for the fame I just like to see what I'm capable of.
LOF: Most people know about Johnny Scoville, The UK Chilli Queen, Bella from Heat 101 and The Pyro Pitbull, but do you have any other inspirational people to speak of who encouraged you to do these crazy challenges, or did you just decide you want to push yourself for your own enjoyment?
Hot Wheelz: Well as I previously mentioned, I've been growing chillies and eating spicy since long before the League of Fire days and indeed long before any of those names became chilli royalty. I was isolated for almost a year and a half when covid-19 began with only a handful of people allowed in or out of my protective "bubble", so I needed something to continue to give me purpose. I needed a challenge and something to strive towards during that incredibly isolating and challenging time in my life, and the Chilli community certainly didn't disappoint. I've been a long-time subscriber to Johnny Scoville and Heat 101 so I was already well familiar with our chilli royalty and decided to once again build my tolerance to rather extreme levels and my competitive chilli eating career was born.
LOF: What is your favourite chilli?
Hot Wheelz: I feel that this changes with time and depends on if you mean in terms of flavour, burn or overall… Overall right now I'd have to say it would have to be a yellow superhot anything with strong citrus notes and a good burn, maybe a Yellow Brain Strain, or perhaps a yellow Moruga Scorpion, or even a Yellow 7 pot Cardi.
LOF: What is your favourite LOF challenge?
Hot Wheelz: So far it would probably be Chug v3 or the Endurance challenge. Both tasted great! I'm looking forward to Chug v4 as Naga and Summer Fruits sounds like something that I would really enjoy.
LOF: Those challenges were great in flavour! Regarding the unreleased v4, here is a little bit of BREAKING NEWS! The v4 will now be a Christmas inspired flavour, including Red Nagas and maybe having a mulled wine, or cranberry infusion! That's enough about that… But we can hopefully look forward to the summer fruits flavour in the Spring of 2022!
Back to the interview, Daniel, tell us about your recent world record achievement. How did you feel before the challenge? How did you decide what challenge to do, and will you try to achieve any more world records?
Hot Wheelz: I had planned the world record attempt only weeks after James 'Iron Gut' Harvey set the previous record back in, I believe it was, March. It's just taken quite a few months to organise the logistics to make it possible.
I guess my reason for choosing the Rummy Bears Psychos record was quite simple, it was a volume and quantity that I knew I could handle which only left heat and endurance as factors. I was feeling good going into the challenge, had prepped well and knew that speed and volume would not be too much of an issue with this attempt. I did however know that with well over 45 minutes of burn time ahead of me before I could seek relief that the dreaded cap cramps were almost certain to make an appearance! As anyone who has watched the video knows, the cramps certainly did make an appearance and they did not disappoint, quickly becoming the most challenging aspect of the latter half of the challenge.
I had someone just out of frame during the challenge and I'd told them going into this that the only way I wasn't going to succeed was if I fell out of my chair and left the camera frame or if I ended up in the back of an ambulance! Well, I'm happy to report that neither of those 2 things occurred and the record is now mine at least until someone else decides to give it a crack!
LOF: Wow! We are truly delighted to honour you as a League Of Fire World Record Holder!
Hot Wheelz: Before I go I'd like to give a massive shout out to 'Chilli Mama Bird' Bree Rek, who kindly agreed to host the record attempt, she is one of a very special few in our community who helped keep me sane during the past year and a half and I very much owe part of this record to her and those few others who have supported me from the beginning of my LOF journey.
In closing, I'd just like to remind everyone that I have a YouTube channel which so far has just been my various challenges but now that I'm finally able to move around in my community a little more I look forward to investing more into it and creating more great content. Please consider subscribing, following and sharing. And as always, keep enjoying the burn!