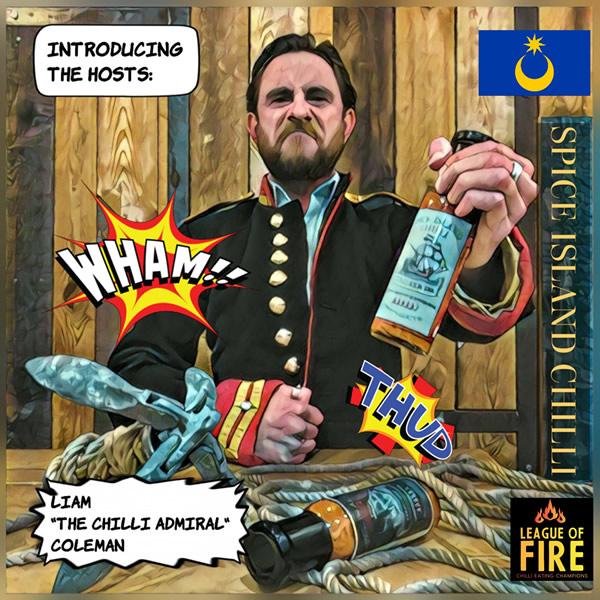 Our understanding is that Spice Island Chilli is the first hot sauce company out of Portsmouth in Hampshire, England. You are the man behind it. Could you tell us what got you into this?
Starting my business was a combination of love and ideas. I have a love for hot food and experimental cooking. I lived in Spain and was always buying the strings of fresh chillies from the farmer's markets in the Old Towns. When I returned to Portsmouth I continued buying fresh chillies and trying different ways to preserve them. Experimenting in the kitchen with ferments and sauces was great fun so I decided to see how far I could take things. Through trial, error and perseverance I made my first 'haul' of sauces in 2015 (about 80 bottles) and sold out at my local fete. I kept improving my recipes and scaling up and I now have five different sauces in my range and many more ideas still to come.
We can see the attention to detail in your products from the names to the ingredients to the description in the labels which are all historic facts and the inspiration behind your recipes. The pride you take in these is very evident. What made you go with this maritime theme?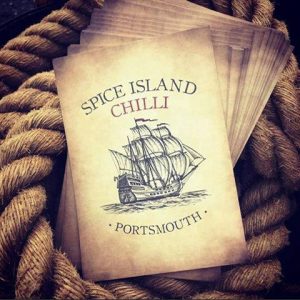 Having been born in Portsmouth, a significant naval port since the 12th century, I have been surrounded in maritime heritage all my life. I love geography and history, and the stories of explorers and maritime trade have always conjured up adventure in my mind, just as getting to know and trying hot foods and chillies can be a culinary adventure in its own right. Spice Island is the historic location of maritime trade and customs in the area of Portsmouth known as Old Portsmouth. It's where the East India Company used to bring back spices and treasure to the UK. So using the name Spice Island Chilli seemed the right thing to do.
Could you talk us through the range of your sauces from mild to hot and tell us which is your best seller?
Drake's, Centurion 1744 & Ghost Ship sell the most as they are at the hotter end of the scale. Although. Hardy's and Bligh's still have their loyal customers. Each is balanced with heat and flavour and are made for everyday use in the kitchen as dips, table and cooking sauces. From salads to fish, BBQ and pasta dishes to slow cooker meals. There is something in the range for everyone and my customers attest to how great they all taste. 'Shake Well – Hold Fast'
You are great at hosting chilli-eating comps. from what we have seen. Could you tell us how you got into hosting?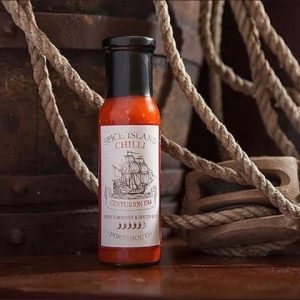 Back in 2017 a good friend of mine who managed a gastro-pub suggested I hold a chilli eating competition at his venue. I must admit I was not sure at first but having done it a few times now I soon found my sea legs. I love sourcing the fresh chillies and, having taste tasted them all myself, love putting the chilli rounds together so that there is a good range of different, increasingly hot chillies to be challenged. I keep it fair and fun. I enjoy it that way as do the contestants and the crowd!
What is the funniest/weirdest thing you have seen happen at a competition?
Where do I start… Was it the contender that turned up dressed as a dead gothic druid and sweat his make-up into his mouth? Or was it the challenger that decided to pull apart each chilli into small bits before eating them and then rubbed his eye in the penultimate round!?! Honestly, you see it all hosting these events. I just love the fact people are game to have a go and are curious to see how far they can progress in a competition of this nature. I am consistently and pleasantly surprised.
What is the hottest chilli you've ever had?
I have taste tested most chillies. I guess it would have to be the infamous Reaper.
Would you ever take part in a chilli-eating competition yourself?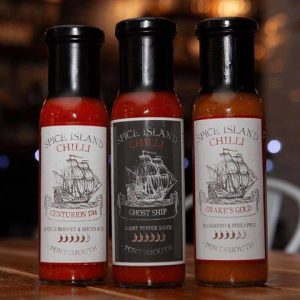 Hmmmm? OK. So the answer is probably, No. I regularly taste test all levels of chillies for cooking sauce, cooking food and sometimes just for fun. However, this also gives me a first-hand idea of how incredibly difficult these challenges actually are. Some contestants make it look so easy. Just for the record, it is NOT easy. The Chillies in later rounds are seriously, seriously hot and only a very small percentage of people can actually complete a chilli eating challenge. It's no joke. It's painful stuff. I love what I do and won't stop eating chillies but I leave the challenges to the professionals. Hosting is as close to a 15 round challenge as I get.
What is your favourite hot sauce outside of your own brand?
I love nearly all hot sauces. I tend to steer away from too much extract and vinegar though. Anything that is full bodied and balanced with experimental flavours won't last long in my house.
If you could get two chilli-eating champions together in a head-to-head, who would you choose and why?
Well I've pretty much achieved this already with The UK Chilli Queen taking part in my event this year and challenging the local champion from 2018, Lee Alton. This really was the highlight of my hosting thus far. Lee is a cool-headed chilli eating machine and has fast become a Portsmouth chilli legend, making the LOF Top 10. He wiped the floor with the 16 other contestants in 2018 and was the clear favourite to keep his crown this year. Until Shahina entered the ring and went 14 rounds and head-to-head with Lee. The UK Chilli Queen's speed, consistency and professionalism is something to behold. Superhuman! UKCQ munched through 7 reapers in the sudden death round before Lee's white flag finally went up. He did have cold though. Both are LOF legends and, on my home turf, seeing these players go toe-to-toe at my own event will be a hard one to beat. Although, never say never…
Where can our readers find your sauces?
Spice Island Chilli is stocked in Butchers, Delis, Gift Shops, Pubs and Restaurants across the city of Portsmouth. I can be found at events throughout the year and I ship online, nationwide to customers from all four corners of the British Isles and Europe. Mix and Match three flavours is a very popular choice. I have lots of regular customers and a stream of new customers and gift buyers always joining the crew. I intend to be at even more events in the coming years and grow my range and brand far and wide.
Welcome Aboard.