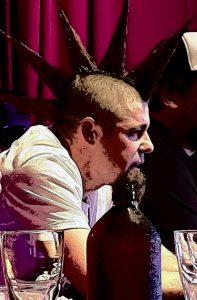 Jesse Painter is the new regional champion in Oceania after winning Clint Meyer's brutal chilli-eating contest earlier this year.
The new champ is a man who prefers to shun the limelight despite the great talent he has for battling the hottest peppers in the world.
So how do you get to know a true man of mystery? A man who prefers to avoid the unavoidable attention that comes from suddenly becoming the official League Of Fire Oceania Chilli-Eating CHAMPION?
Simple, you ask his better-half a load of questions about him and hope she lets us all learn more about the great man!
Chantal is Jesse Painter's wife and evidently a true supporter of his chilli chomping exploits. Chantal was engaging, friendly and helpful when the League Of Fire reached out to her to ask some questions about the new champ!
LOF: Hi Chantal. Thank you for helping us with this Q and A regarding the new Oceania champ, your husband Jesse. Can you tell us his first experience with chilli?
Chantal: That's a funny story. It was when he was roughly 7 or 8 years old and he was being naughty and was caught using bad language by his mother! She thought it would be a good idea to give him a teaspoonful of Cayenne pepper to teach him a lesson, but he just ate it and laughed it off. It didn't help much with his swearing! A couple of years later Jesse ate his first curry and thereafter he would enjoy curry powder on everything he ate! That soon got replaced with chilli powder!
LOF: So was it a case of Jesse using chilli to enhance the flavour of his food? Or was it more to get an endorphin rush and really try to shock people he was with?
Chantal: He always enjoyed his food hot and he still eats chilli with everything, though nowadays he adds somewhat classier chilli products than the basic powder he used to add in his younger days. Having said that, Jesse likes to push boundaries, making food hotter and eating food with more chilli. He makes it a challenge for himself!
LOF: So when did 'super-hots' enter the mix?
Chantal: Jesse didn't always know about super-hots. There was a time when Thai Bird's Eye chillies were hot to him! We can even remember a time when a friend gave us a Rocoto chilli and that was hot to Jesse!
It was around 6 years ago when Jesse got a job working in horticulture. The company predominantly grew capsicums for the NZ commercial market but had a small side-line in chillies… super hots! So that was the beginning of that. It also meant that he had access to super hots all the time and he was able to increase his tolerance more and more. The 'mild' chillies we had always grown at home soon became super hots!
There is a funny story regarding our local Indian restaurant. We have an AMAZING family run Indian restaurant called Curry 'n' Kebabs in Amberley, and they make spectacular curry. Jesse just kept going back and asking for hotter and hotter… One night the chef just really went all out and Jesse sweated through the dinner that night! My gosh did Jesse sweat through that one, but he enjoyed it so much! Nowadays Jesse takes his own chillies to the restaurant and it turns out that he likes it hotter than the level they can make it!
LOF: Would these hot curries with added super hots give Jesse an endorphin rush?
Chantal: Well, yes Jesse does really love hot food, but no, the endorphin rush was something he learnt about along the way when he got into eating supers and chilli eating competitively. I have heard many descriptions of his love for that rush, though I'm not sure any are overly appropriate to add here, haha!
LOF: So how did you and Jesse discover the NZ Chilli Champs? Did he become a champion without really knowing it could happen, or did he decide to smash the competition? Is Jesse a competitive guy?
Chantal: We knew about the annual Christchurch (chilli eating contest) heat for a few years. Jesse always wanted to give it a go, but honestly we usually heard about it after it had already happened for the year, so we never quite got around to it. Things happen for a reason though. Jesse probably could have always done quite well, but his timing couldn't have been better when he started. His tolerance was up and he was living and breathing chillies! But no, he never really went into any of this to smash the competition! He did not go into this thinking that it would have gone how it has!
LOF: Can you tell us about his first competition? Even if it was not a Clint Meyer contest…
Chantal: His first competition was a brutal Spicy Boys chilli popper contest in Christchurch. It was a bunch of fun, but he went to win! I don't think I've ever seen him so nervous except for, maybe, our wedding! He was nervous about the big crowd, not the chillies! Jesse really wanted that win as there had been a fair amount of banter between him and Jay from Spicy Boys beforehand!
In PART TWO of Chatting to the Champion we will get more thoughts from Chantal about the build-up to the Auckland grand final and discover even more about the current Oceania Champion Jesse Painter! Don't miss it!