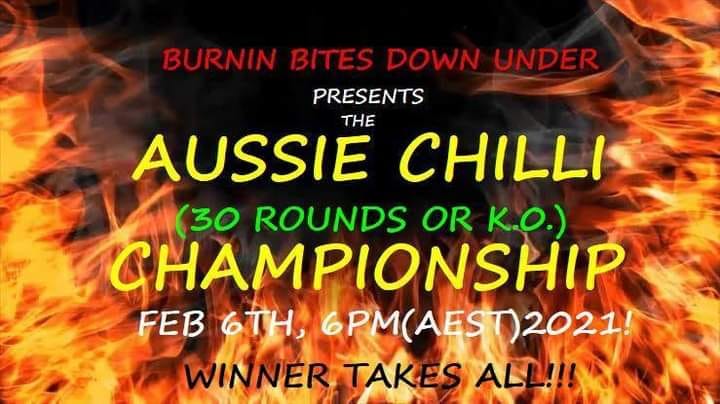 G'day Spice legends!
Chilli Philli here from Burnin Bites Down Under!
We are organising the first of its kind Chilli Championship in Australia to find out who will be the AUSSIE CHILLI CHAMP!…and then we'll send them out into the world to represent Australia & take on everyone else.
Competitors in our comp will represent their state and be an absolute Chilli-Beast already – that's 8 states and 1 from each!
These 8 Spice Legends will then face off against each other from the soon to be 'discomfort' of their own homes and streamed to the world LIVE from our Facebook page.
We will host the event in Australian Eastern Standard Time (AEST) on Sat February 6th 2021 at 6pm (Sydney Time)
Many of you will be overseas so viewing times will vary internationally:
(UK) London: 7am Sat Feb 6th 2021
(GERMANY) Berlin: 8am Sat Feb 6th 2021
(NZ) Wellington: 8pm Sat Feb 6th 2021
(USA) L.A, Reno : 11pm Fri Feb 5th 2021
(USA) New York + South Carolina: 2am Sat Feb 6th 2021
(USA) Texas/Louisiana: 1am Sat Feb 6th 2021
(AUS) Perth: 3pm Sat Feb 6th 2021
(AUS) Brisbane: 5pm Sat Feb 6th 2021
(AUS) Drwin: 4:30pm Sat Feb 6th 2021
*If weve missed your area we apologize & are just giving you are rough helpful guide*
The Event will go for a possible and grueling 30 rounds or a knockout (when all other competitors give up or are disqualified) – the RULES are simple:
Each competitor will open their sealed box containing our fiery products live and see the contents for the first time! (If box already opened – Disqualified!)
Once the box is opened, they may not leave the view of the screen for any reason. To do so will result in disqualification!
Drinking any milk or beverages, FOOD or accepting outside help will result in disqualification!
Refusal to finish or inability to finish product within 5 mins of start of round will result in disqualification!
Now the question is why would you put yourself through this?
Well, the winner gets title of CHILLI CHAMPION OF AUSTRALIA, an actual crown, $1000 cash, and the "GOLDEN BOOMERANG" forever engraved with their name, state and year which they'll hold until the next comp.
They'll also receive a ridiculous amount of chilli products to take home, some awesome championship winner bling and also the winner will have the option to challenge the NZ Champion in a AUS vs NZ Battle! These legends could then take on the rest of the world! This comp will be LOF recognized with big points to earn on the LOF ladder too!
So if you have an Aussie mate or friend who wants to represent Australia in the craziest chilli comp you've ever seen, tag them on our FB page and send 'em  to facebook.com/burninbitesdownunder
And if you wanna win free stuff just become one of our followers for your chance to win awesome chilli prizes and keep on seeing awesome, original chilli content from our page!
So for now legends come check us out, get involved, come watch the craziest challenge ever and remember…
KEEP CALM
&
BE SAUCESOME!!!