TROUBLE BUBBLE – CaJohns 16 Million SHU Bubble Gum Challenge
£16.95
Produced by: CaJohns Fiery Foods Co., USA
The HOTTEST Bubble Gum on Planet Earth!
Carefully crafted to contain Pure 16 Million Scoville Extract
Try to blow the biggest bubble that you can without spitting anything out… spitters are quitters!
Check out the League Table.
Size: 5g
Out of stock
Description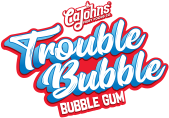 WARNING – Before buying this product please read our Disclaimer
CaJohn's Trouble Bubble Gum has been carefully crafted to contain Pure 16 Million Scoville Extract. Making this the HOTTEST Bubble Gum on Planet Earth!  Can you chew a piece of CaJohn's Trouble Bubble Gum long enough to blow a single bubble? This is not for wimpy people, the elderly, children, pets, or people with heart conditions or excessive sweating problems.
Challenge instructions: Try to blow the biggest bubble that you can without spitting anything out… spitters are quitters!
Consume at your own risk and handle with extreme caution! With over 16 Million Scoville Units in your mouth, how much trouble will you have blowing that bubble!?
Try if you DARE! How many chews can you withstand before blowing that bubble? PRO TIP: Chew very quickly!
To ensure quality control, maximum potency and freshness, Trouble Bubble Gum is all produced and packaged individually by hand in small batches. Limited quantity while supplies last.
Ingredients: Sugar, Pure 16 Million SHU.
Additional Disclaimer Notes:
By taking on this challenge you hereby accept that League Of Fire and/or CaJohns Fiery Foods Co.  will, under no circumstances, be responsible for, or liable for, any claims of injury or damage arising from the use or misuse of this product and by purchasing this product, whether for yourself or as a gift, you acknowledge and agree to this fact without question.
DO NOT CONSUME:-
On an empty stomach
If you have gastro-intestinal problems
If you are allergic to Chilli or Capsaicin
If you are pregnant or breast feeding
If you are sensitive to spicy foods
If you have a cardiac condition
If you have any other medical conditions