Red Cayenne Sauce – Byron Bay Chilli Co. (Best Before 4 Nov 2022)
£3.95 – £20.00
Heat Level: Medium/Hot
Produced by: Byron Bay Chilli Co. – NSW, Australia
Red Cayenne Chilli Sauce with Lime. Start with a splash in the morning on an egg burrito. Everything tastes better with a little BBCC Red.
Gluten Free.
Size: 250ml
Description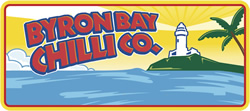 Heat Level: Medium/Hot
Red Cayenne Chilli Sauce with Lime. An everyday hot sauce. Start with a splash in the morning on an egg burrito. Everything tastes better with a little BBCC Red.
The tartness is not too strong, but just right. The spices are heavenly. Be prepared to find every other red chilli sauce a disappointment after treating your taste buds to this exquisite blend.
Ingredients: Water, Cayenne Chillies (41%), Salt, Lime Juice (10%), Spices, Food Acid (260) Vegetable Gum (415).
Gluten free.
250ml bottle.