Mikey V's Loco Spice Gator Toes Challenge
£10.95
Produced by: Mikey V's, Texas, USA
Deep fried garlic with Carolina Reaper, Scorpion, and Ghost Peppers
How fast can you eat a whole bag?
Check out the League Table
Size: 100g
Out of stock
Description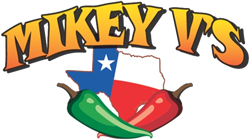 WARNING – Before buying this product please read our Disclaimer
Mikey V's Foods is an award-winning, veteran owned, Texas-based food company aimed at offering high quality hot sauces, salsas, spicy pickles, and barbeque sauces, and much more.
Mikey V's Loco Spice deep fried garlic is their hottest flavor yet. It features Carolina Reaper, Scorpion, and Ghost Peppers so you know it's going to be HOT!
WARNING: Do not eat if you are sensitive to spicy foods, allergic to peppers, nightshades or capsaicin, or are pregnant or have any medical conditions. Keep out of reach of children. After touching the chip, wash your hands with soap and do not touch your eyes or other sensitive areas. Seek medical assistance should you experience difficulty breathing, fainting or extended nausea.