Grumpy Granny Apple Chip Challenge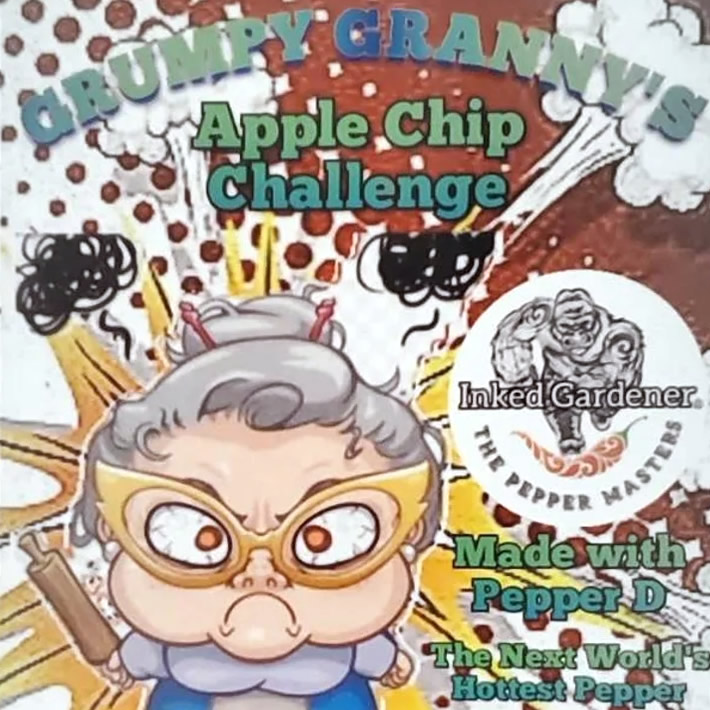 THIS LEAGUE TABLE HAS BEEN ARCHIVED
AND IS NO LONGER ACCEPTING SUBMISSIONS
This hand-made tasty treat has been created by Inked Gardener LLC in Oklahoma, USA!
This has been created with FLAVOUR at the forefront of mind but do not worry about heat! This will burn you up! Delicious organic Gala apples and extreme pepper dust combine to combust!
Take note: This product is fired up by the prestigious 'Pepper D' superhot chilli which is currently, at the time of writing, in the application process with Guinness to be crowned as the official new world's hottest pepper!
Each chip consumed will earn you 3 LOF World Ranking Points. Bonus point will be awarded for every 3rd Chip consumed in one sitting!
Challenge Rules:
No food, drink or relief while attempting the challenge.
Open the bag ON CAMERA and record WITHOUT EDITS
You have 2 minutes to consume the entire contents of the bag
Endure a 5 minute afterburn
Congratulations you have completed the challenge
Repeat as necessary!
LOF World Ranking Points:
*Extra Bonus Points in ascending order for each consecutive 3 Chips eaten in one sitting:
1 bonus point for the 3rd Chip;
2 bonus points for the 6th Chip;
3 bonus points for the 9th Chip and so on
Additional rules effective from 15 March 2023:
No spitting or drooling – if you're producing saliva, make sure you swallow it!
No waiting in excess of 1 minute after burn time during back-to-back challenges.
No covering of mouth with tissue/napkin or some such. Wiping of face, nose, and/or mouth is acceptable.
Position
Name
# Chips Eaten
#Additional Attempts
# Total Points
No data available!
Grumpy Granny Apple Chip Challenge Vids