World's Hottest Corn Chips – Chilli Seed Bank
Produced by: Chilli Seed Bank – NSW, Australia
These corn chips are infused with Chilli Seed Bank's own triple pressed, A-grade Carolina Reaper, Scorpion and Bhut Jolokia puree, and finished with a dusting of Carolina Reaper powder to deliver explosive heat!
Check out the L.O.F. World's Hottest Corn Chips Challenge League Table
100% Australian
Size: 50g Net
3 in stock
Description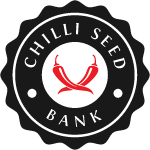 WARNING – Before buying this product please read our Hot Sauce Disclaimer
These corn chips are infused with Chilli Seed Bank's own triple pressed, A-grade Carolina Reaper, Scorpion and Bhut Jolokia puree, and finished with a dusting of Carolina Reaper powder to deliver explosive heat! They are the world's hottest, after all.
Our corn chips are made using an ancient Aztec method developed some 3,500 years ago, called Nixtamalization. Locally grown wholegrain corn is soaked in alkali water (lime), washed and cooked before being ground into the delicious dough (masa) that makes the base of our corn chips. The authentic masa is then infused with our super-hot puree, seasoned to perfection, and topped off with a dusting of Carolina Reaper powder for good measure!
They are then packaged in 100% Australian made packaging, in a resealable bag – because let's be honest, chances are you won't be able to finish the bag in one sitting, but we dare ya to try! This is a dangerously hot food product and must be consumed responsibly. ARE YOU GAME?
Ingredients: Wholegrain Australian Corn, Vegetable Oil, Carolina Reaper Chilli, Scorpion Chilli, Bhut Jolokia Chilli, Citric Acid, Sugar, Paprika, Dehydrated Vegetables (Tomato, Garlic, Onion), Salt.
No artificial ingredients or flavours; no preservatives; non-GMO; vegan friendly; gluten free.
Do not consume…
On an empty stomach… Once the fire reaches your belly, extinguish it with a helping of milk or icecream. 
If you are allergic to chilli, capsaicin or have had an adverse reaction to chilli or chilli products 
If you are sensitive to spicy foods 
If you have a cardiac condition, gastrointestinal problems, or if you have any other serious medical conditions 
If you are pregnant or breastfeeding