NOUGAT TO BE KIDDING ME! Spicy Nougat Challenge
£12.00
Produced by: A Pit Of A Pickle, Wales
Soft nougat made with crushed toasted almonds & glacé cherries
Combined with Bhut Jolokia, Scorpion & Reaper Peppers
Can you BEAT THE SWEET!
Check out the League Table
Vegetarian & Gluten Free
Size: 30g
23 in stock
Description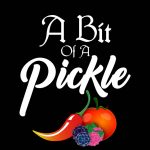 WARNING – Before buying this product please read our Disclaimer
Soft nougat with glacé cherries & toasted almonds combust! Bhut Jolokia, Scorpion & Reaper peppers fuse together to set this delicious nougat on fire!
Created by A Pit Of A Pickle, this is the first League Of Fire challenge to come out of Wales!
The rules are simple. Eat the nougat, show a clear mouth and endure a 4 minute burn time! This will earn you 2 LOF World Ranking points! Bonus points will be awarded for every 3rd nougat consumed in one sitting!
YOU think you can beat the sweet? Nougat to be kidding me!
Ingredients: Golden Syrup, Sugar, Almonds, Cherries (Dried Cherries, Sugar, Natural Flavouring, Sunflower Oil) Pasteurised Egg Whites, Chilli (Bhut Jolokia. Scorpion, Carolina Reaper), Edible Wafer Paper (Potato Starch, Water, Olive Oil, Sucralose, Vanilla Aroma), Potassium Sorbate (E202).
Vegetarian & Gluten Free. *CONTAINS NUTS & EGG*
Additional Disclaimer Notes:
By taking on this challenge you hereby accept that League Of Fire and/or A Pit Of A Pickle  will, under no circumstances, be responsible for, or liable for, any claims of injury or damage arising from the use or misuse of this product and by purchasing this product, whether for yourself or as a gift, you acknowledge and agree to this fact without question.
DO NOT CONSUME:-
On an empty stomach
If you have gastro-intestinal problems
If you are allergic to Chilli or Capsaicin
If you are pregnant or breast feeding
If you are sensitive to spicy foods
If you have a cardiac condition
If you have any other medical conditions