NOUGAT TO BE KIDDING ME! Spicy Nougat Challenge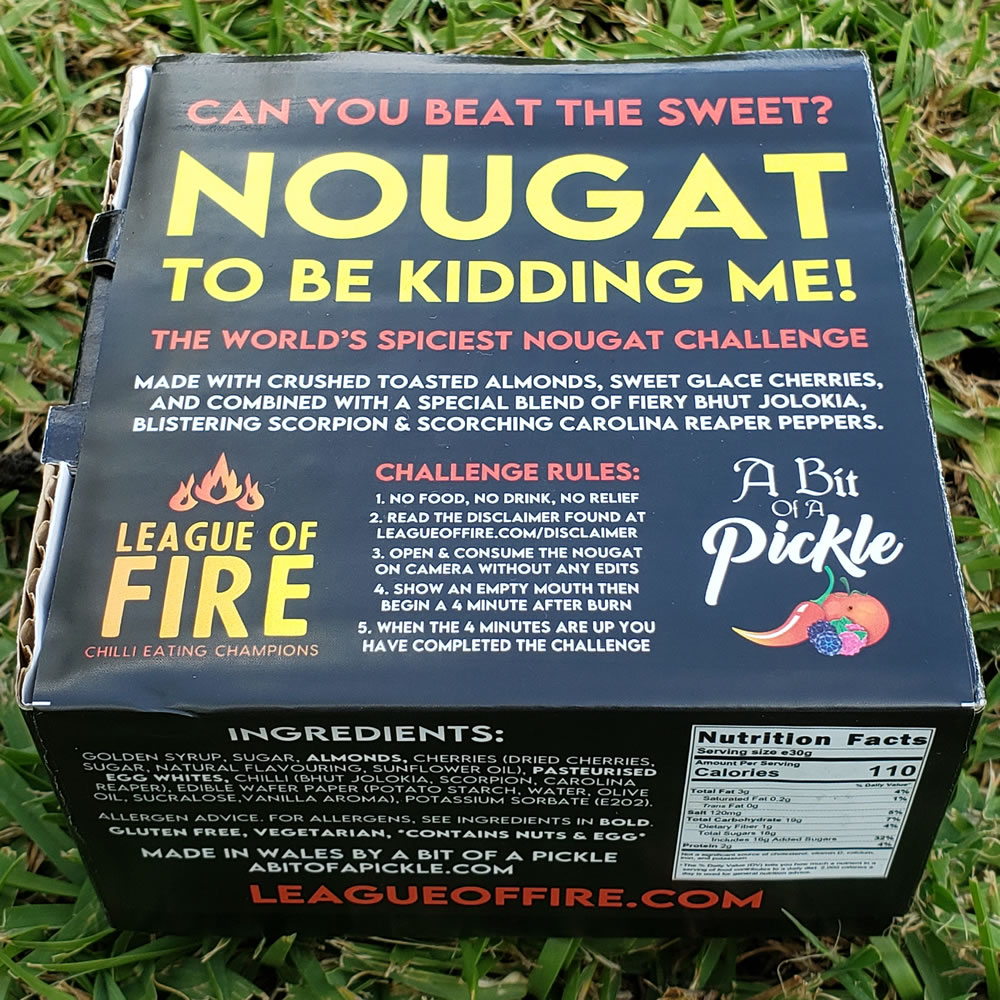 Soft nougat with glacé cherries & toasted almonds combust! Bhut Jolokia, Scorpion & Reaper peppers fuse together to set this delicious nougat on fire!
Created by A Pit Of A Pickle, this is the first League Of Fire challenge to come out of Wales!
The rules are simple. Eat the nougat, show a clear mouth and endure a 4 minute burn time! This will earn you 2 LOF World Ranking points! Bonus points will be awarded for every 3rd nougat consumed in one sitting!
YOU think you can beat the sweet? Nougat to be kidding me!
Challenge Rules:
No food, no drink, no relief
Read the LOF disclaimer
Open & consume the nougat on camera without edits
Show an empty mouth then begin a 4 minute after burn
When the 4 minutes are up you have completed the challenge
LOF World Ranking Points:
2 points for every Piece of NOUGAT TO BE KIDDING ME! eaten
*Extra Bonus Points in ascending order for each consecutive 3 Pieces of NOUGAT TO BE KIDDING ME! eaten in one sitting (observing the 4 min afterburn between each one):
1 bonus point for the 3rd Bar eaten;
2 bonus points for the 6th Bar eaten;
3 bonus points for the 9th Bar and so on
Additional rules effective from 15 March 2023:
No spitting or drooling – if you're producing saliva, make sure you swallow it!
No waiting in excess of 1 minute after burn time during back-to-back challenges.
No covering of mouth with tissue/napkin or some such. Wiping of face, nose, and/or mouth is acceptable.
Position
Name
# Pieces Eaten
# Additional Attempts
# Total Points
No data available!
NOUGAT TO BE KIDDING ME! Spicy Nougat Challenge Vids