Hot Dang Show BITES – 3 chocs in the box
£18.95
Produced by: Willy Pete's Chocolate Co. for Roger Trier's HOT DANG SHOW
3 types of chocolate (Milk, White & Dark)
3 types of chilli (Habanero, Ghost & Carolina Reaper)
Check out the BITES Challenge League Table
Size: 85.05g (3 oz)
Out of stock
Description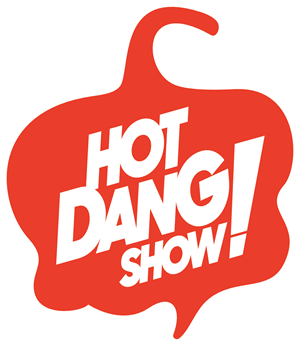 WARNING – Before buying this product please read our Hot Sauce Disclaimer
Get ready to feed your spicy side, but be careful, Nemesis may bite back!
Each chocolate bar is 1 oz (3 oz total) and contains layers of peanut butter and toffee bits.
Milk Chocolate – Habanero Peppers
White Chocolate – Ghost Peppers
Dark Chocolate – Carolina Reapers
Caution: Contains Nuts/Peanuts/Almonds, Milk & Soy.
BRAVE ENOUGH TO TAKE ON THE BITES CHALLENGE? HERE ARE THE RULES…
FIRST AND FOREMOST
NO DRINK AND CURSING AT ALL FOR THE ENTIRE CHALLENGE.
You got 2 minutes to savour each bar. You cannot start the next bar until that time is up.
But start with the Purple wrap (habanero) first, Red wrap (ghost pepper), and Black wrap (Carolina Reaper) last.
Complete all 3 die-licious Chocolate Bars.
5 MINUTES AFTER-BURN or WAIT FOR NEMESIS!
For bragging rights and to appear on the wall of bites, post yourself "enjoying" the bites to your youtube, instagram feed or twitter (and make sure your profile is public). Tag @hotdangshow along with #hdsbiteschallenge
GOOD LUCK! TRUST US, YOU GONNA NEED IT.