Fiery Coconut Chilli Sauce – Byron Bay Chilli Co. (Best Before 12 Oct 2022)
£3.95 – £12.00
Heat Level: Medium
Produced by: Byron Bay Chilli Co. – NSW, Australia
Fiery Coconut Chilli Sauce with Curry & Ginger. Just the right blend of curry, chilli, fish sauce and spice.
Gluten Free.
Size: 250ml
Description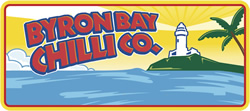 Heat Level: Medium
Fiery Coconut Chilli Sauce with Curry & Ginger. Especially tasty with barbequed chicken or as a salad dressing. Try this and taste one of the world's truly unique sauces.
Absolutely packed with flavour, and backed with a nice chilli glow. Excellent Steak Sauce. Grand Prize Winner at the 2007 Scovie Awards in New Mexico.
Ingredients: Sugar, Coconut (27%), Cider Vinegar, Water, Fish Sauce (Water, Anchovy, Salt, Sugar), Cayenne Chilli (3%), Corn Starch, Curry Powder (2%), Ginger (2%), Garlic, Coriander, Salt.
Gluten free.
250ml bottle.