Tube of Terror Challenge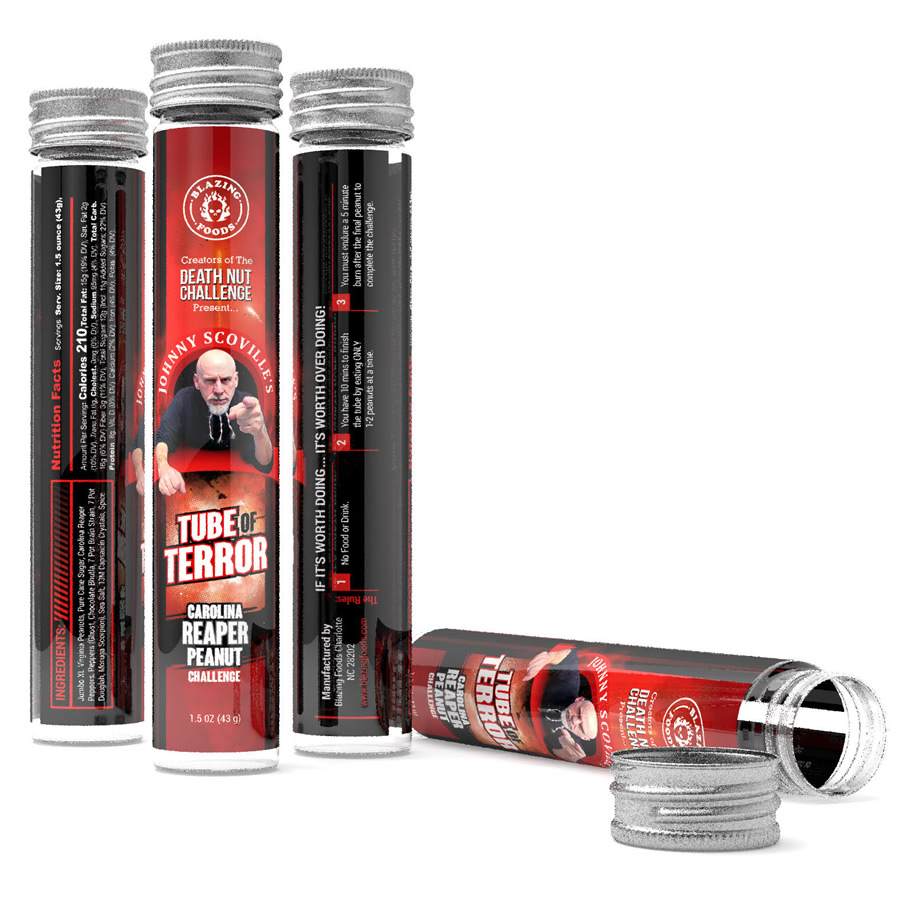 Developed by Blazing Foods for Johnny and his insane group of heat-seeking chili-heads… The Scoville Squad! The biggest challenge was making a tiny little peanut STOOOPID HOT. It required quite a bit of trial and error with countless revisions to get this product hot enough to tickle Johnny's heat tolerance.
It was finally locked in with a premium blend of the 6 hottest peppers on earth then kicked it up a notch with pure, all natural 13,000,000 SHU Capsaicin Crystals.
The league table below shows the highest number of Tubes consumed per challenge in the 1st column. The 2nd column shows the number of additional Tubes eaten on different occasions.
If it's worth doing, it's worth overdoing!!
The Rules:
It's a 15 minute challenge
No food or drink throughout the challenge
You have 10 mins to finish the tube, 1 or 2 peanuts at a time
After the 10 mins is up you must endure a 5 minute afterburn
LOF World Ranking Points:
7 points per tube
5 points per tube completed with misunderstood rules
*Extra Bonus Points in ascending order for each consecutive tube eaten in one sitting:
1 bonus point for the 2nd tube;
2 bonus points for the 3rd tube;
3 bonus points for the 4th tube and so on
Position
Name
# Tubes Eaten
#Additional Attempts
# Total Points
No data available!
Tube of Terror Challenge Vids