Tube of Terror v2.0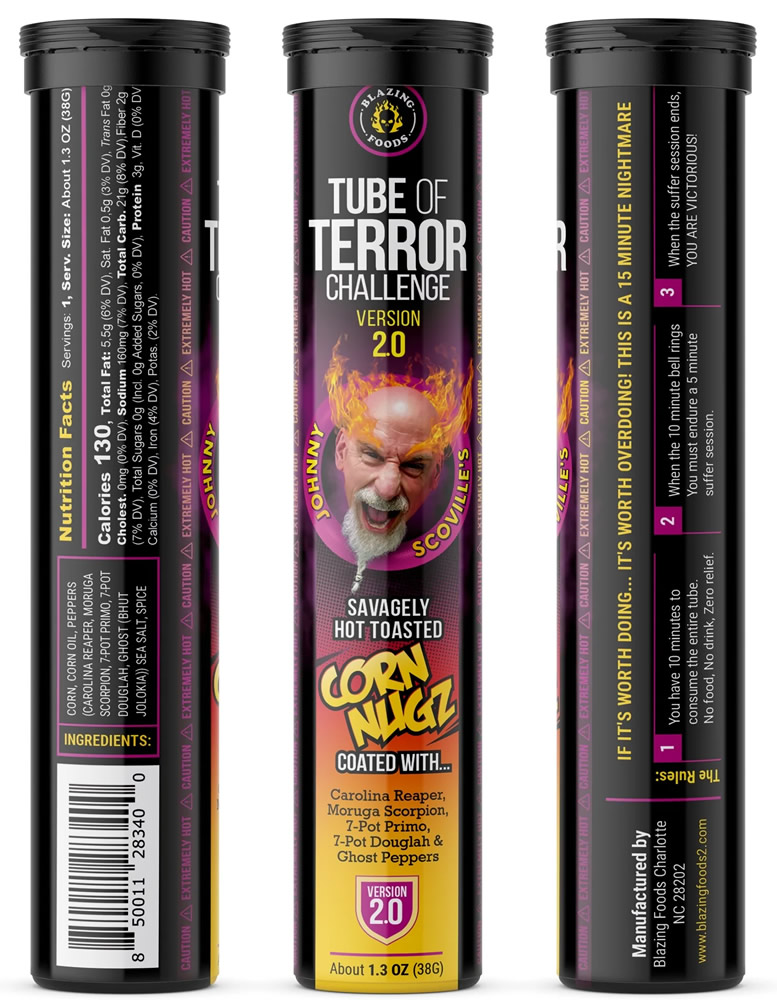 FINALLY – a remake and improvement of the OG beast!
Blazing Foods stated with delicious, crunchy toasted corn (aka corn nuts) and proceeded to do what they do best… make stuff spicy! They developed a new Chile-Lime seasoning blend and an all-star lineup of the world's hottest peppers for a perfect hit of savory & searing heat. Sorry NO Pure Capsaicin Crystals this time around but they did invent a top-secret double coating process to pack a serious load of heat on each & every corn nut in the tube.
The league table below shows the highest number of Tubes consumed per challenge in the 1st column. The 2nd column shows the number of additional Tubes eaten on different occasions.
If it's worth doing, it's worth overdoing!!
The Rules:
It's a 15 minute nightmare!
You have 10 minutes to consume the entire tube. No food, No Drink, Zero relief.
When the 10 minute bell rings you must endure a 5 minute suffer session.
When the suffer session ends, YOU ARE VICTORIOUS!
LOF World Ranking Points:
*Extra Bonus Points in ascending order for each consecutive tube eaten in one sitting:
1 bonus point for the 2nd tube;
2 bonus points for the 3rd tube;
3 bonus points for the 4th tube and so on
Additional rules effective from 15 March 2023:
No spitting or drooling – if you're producing saliva, make sure you swallow it!
No waiting in excess of 1 minute after burn time during back-to-back challenges.
No covering of mouth with tissue/napkin or some such. Wiping of face, nose, and/or mouth is acceptable.
Position
Name
# Tubes Eaten
#Additional Attempts
# Total Points
No data available!