Original Paqui One Chip Challenge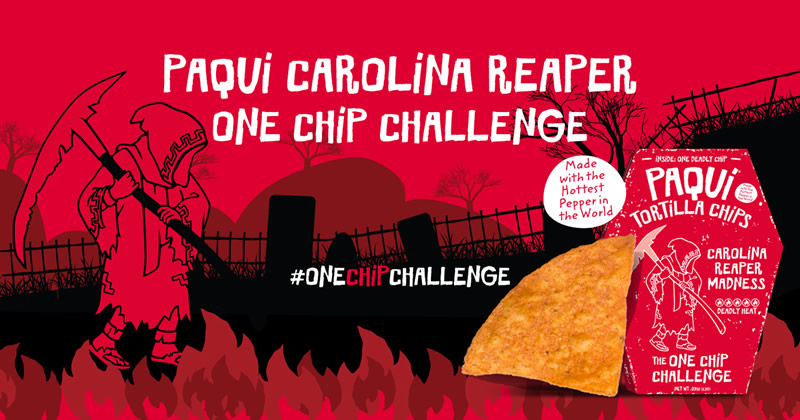 THIS LEAGUE TABLE HAS BEEN ARCHIVED
AND IS NO LONGER ACCEPTING SUBMISSIONS
This League Table showcases those brave enough to take on the original version of the Paqui #OneChipChallenge. Carolina Reaper Madness!
Do you dare to go to Hell and back? Made with the world's hottest pepper, this chip is crazy hot and not for the faint of heart – or stomach! Heat seekers may eat at their own risk: not everyone will enjoy the extreme heat! If the heat is too much for you, try drinking milk or eating ice cream.
LOF World Ranking Points:
*Extra Bonus Points in ascending order for each consecutive 5 Chips eaten in one sitting:
1 bonus point for the 5th Chip;
2 bonus points for the 10th Chip;
3 bonus points for the 15th Chip and so on
Additional rules effective from 15 March 2023:
No spitting or drooling – if you're producing saliva, make sure you swallow it!
No waiting in excess of 1 minute after burn time during back-to-back challenges.
No covering of mouth with tissue/napkin or some such. Wiping of face, nose, and/or mouth is acceptable.
Position
Name
# Chips Eaten
#Additional Attempts
# Total Points
No data available!
Original Paqui One Chip Challenge Vids