The Old Agness Store CRUNCHY CHALLENGE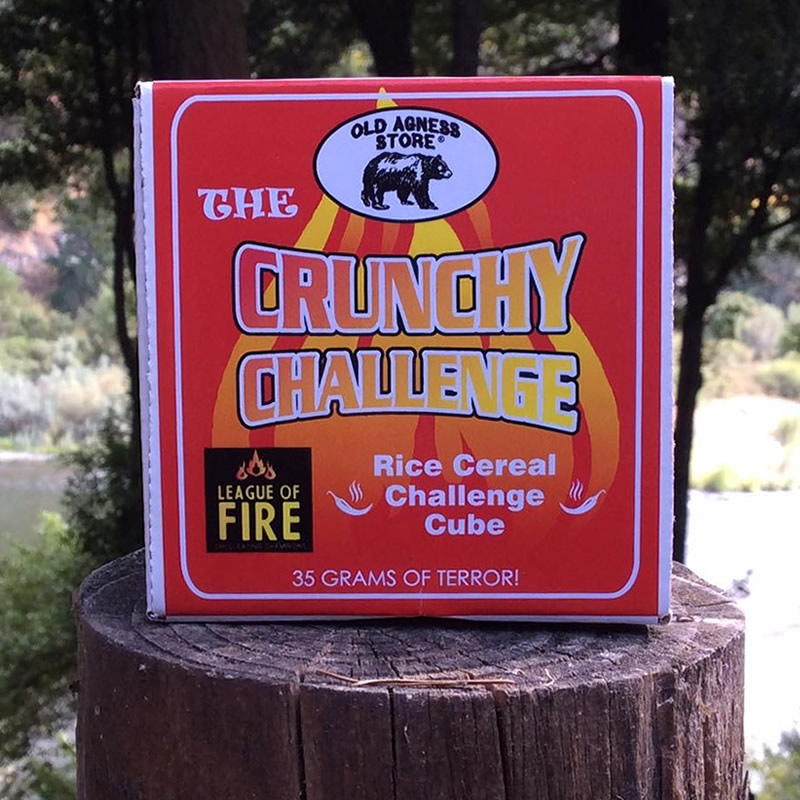 Old Agness Store's® hottest challenge to date…
It's CRUNCH TIME!!
This is Not your Momma's Rice Cereal Treat! True, the marshmallows, butter and organic rice cereal are present… also present is a tease of deep rich chocolate, a good amount of the world's hottest pepper powders and the addition of 9 Million Pure Capsicum Oleoresin Extract!
The challenge rules:
No food or drink at all for the entire challenge.
You have a MAXIMUM of 4 mins to eat the CRUNCHY but you can be as quick as you like. As soon as you show an empty mouth you must begin a 4 minute afterburn.
After the 4 min burn time is up you have completed the challenge!
Old Agness Store® is a Small Batch Bakery and Spice Shop in Agness, Oregon, USA.
LOF World Ranking Points:
*Extra Bonus Points in ascending order for each consecutive CRUNCHY eaten in one sitting (observing the 4 min afterburn between each one):
1 bonus point for the 2nd CRUNCHY;
2 bonus points for the 3rd CRUNCHY;
3 bonus points for the 4th CRUNCHY and so on
Additional rules effective from 15 March 2023:
No spitting or drooling – if you're producing saliva, make sure you swallow it!
No waiting in excess of 1 minute after burn time during back-to-back challenges.
No covering of mouth with tissue/napkin or some such. Wiping of face, nose, and/or mouth is acceptable.
Position
Name
# Crunchies Consumed
#Additional Attempts
# Total Points
No data available!
The Old Agness Store CRUNCHY CHALLENGE Vids