Rummy Bears Reapers Challenge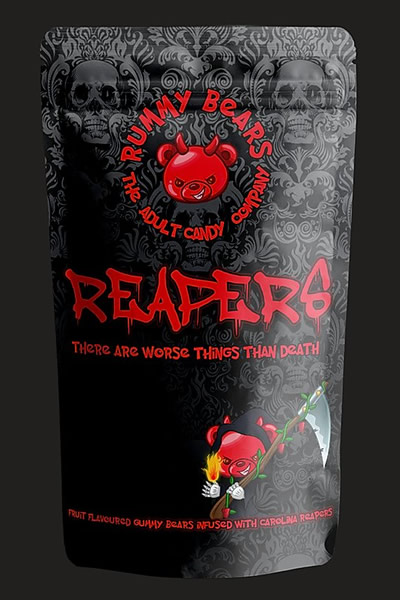 These Carolina Reaper infused Gummy Bears are for the serious SUPERHOT gummy bear lover who likes things hotter than hot.
Made using Fresh Carolina Reapers, The World's HOTTEST chilli pepper
These gummy bears are EXTREMELY HOT. You have been warned!
Recommended ages: 18+
Keep away from Young Children and Elderly People
DO NOT TAKE WHILE PREGNANT
Consume at your own risk
Pack Contains 12 medium sized Rummy Bears
The LOF Rules:-
This is a 10 minute challenge which MUST be undertaken on camera to qualify.
No food or drink while attempting the challenge.
There are 12 Rummy Bears Reapers in each pack (which must be opened on camera) – you have 4 mins to eat the first 6 – 1 or 2 at a time.
The Bears must NOT be swallowed whole.
You cannot begin to eat the next 6 until the 4 mins is up.
You then have another 4 mins to eat the remaining 6 Rummy Bears.
Once this 4 mins is up and you have eaten all the Bears (show the camera) you must endure a 2 min burn time to complete the challenge.
LOF World Ranking Points:
2 points for every 6 Rummy Bears Reapers eaten
*Extra Bonus Points in ascending order for each consecutive pack of 12 Rummy Bears Reapers eaten in one sitting:
1 bonus point for the 2nd pack of 12 Bears eaten;
2 bonus points for the 3rd pack of 12 Bears eaten;
3 bonus points for the 4th pack of 12 Bears eaten and so on
Additional rules effective from 15 March 2023:
No spitting or drooling – if you're producing saliva, make sure you swallow it!
No waiting in excess of 1 minute after burn time during back-to-back challenges.
No covering of mouth with tissue/napkin or some such. Wiping of face, nose, and/or mouth is acceptable.
Position
Name
# Bears Eaten
# Additional Attempts
# Total Points
No data available!
Rummy Bears Reapers Challenge Vids