Peanut Brutal Challenge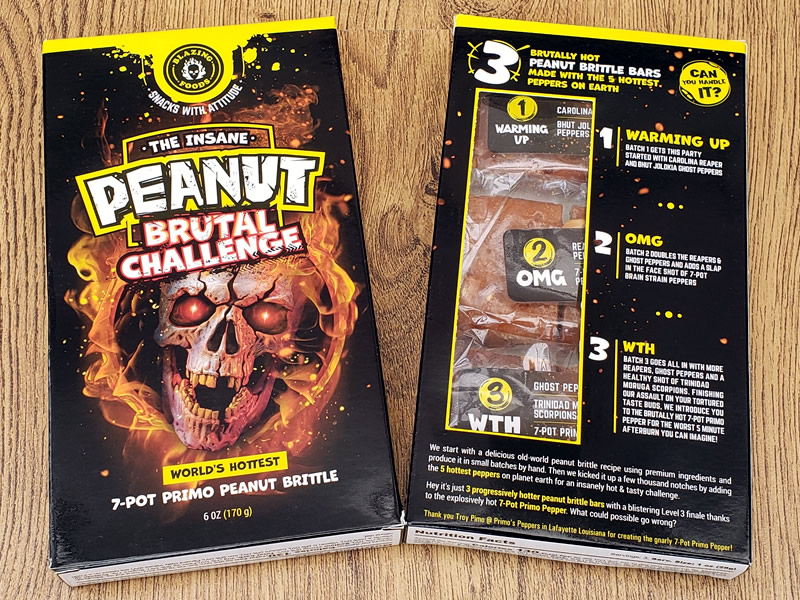 THE PEANUT BRUTAL CHALLENGE IS READY… ARE YOU?
FEATURING THE WORLD'S HOTTEST PEANUT BRITTLE AND A 50 MEAL DONATION WITH EVERY PURCHASE!
3 progressively hotter bars for over 1/3 of a pound of the hottest Peanut Brittle on earth. Each 2-ounce bar has enough super-hot peppers to start a fire and each bar just keeps getting hotter as you progress through the challenge. Don't settle for a little piece of chocolate less than a half-ounce, a tiny gummy bear, or a single tortilla chip when you can have the 1/3 pound Peanut Brutal Challenge with the current Guinness Book Certified 'World's Hottest Peppers'.
Made by the creators of the Death Nut Challenge & Tube of Terror, Blazing Foods started with an extremely tasty old-world peanut brittle recipe and amped up a few hundred notches for chili-head friends and heat-seekers across the globe. Using only the best available ingredients and premium super-hot peppers… whole fresh-cream butter, pure cane sugar, premium corn syrup, Virginia peanuts, baking soda, salt, spices AND the world's hottest peppers (according to the Guinness Book) featuring the intense 7-Pot Primo pepper by top man Troy Primo!
BAR ONE: WARMING UP – CAROLINA REAPER AND BHUT JOLOKIA (GHOST) PEPPERS
BAR TWO: OMG – DOUBLE REAPER & GHOST AND A SLAP IN THE FACE SHOT OF 7-POT BRAIN STRAIN PEPPERS
BAR THREE: WTH – MORE REAPER & GHOST AND A HEALTHY SHOT OF TRINIDAD MORUGA SCORPION AND THE BRUTALLY HOT 7-POT PRIMO PEPPER
CAN YOU HANDLE IT?
RULES OF ENGAGEMENT: No food or drink is allowed during the challenge. Crack open bar #1 and get after it. As soon as you finish bar one rip open bar two and get after it. Same goes for bar three then you have to endure a 5 minute afterburn. ENJOY!!
LOF World Ranking Points:
5 points per box (all 3 bars) of The Peanut Brutal Challenge
If, after completing the challenge you wish to attempt another box, you will be awarded 1 point for BAR ONE: WARMING UP and a further 2 points for BAR TWO: OMG
*Extra Bonus Points in ascending order for each consecutive box (all 3 bars) of The Peanut Brutal Challenge eaten in one sitting:
1 bonus point for the 2nd box of ALL 3 Peanut Brutals;
2 bonus points for the 3rd box of ALL 3 Peanut Brutals;
3 bonus points for the 4th box of ALL 3 Peanut Brutals and so on
Additional rules effective from 15 March 2023:
No spitting or drooling – if you're producing saliva, make sure you swallow it!
No waiting in excess of 1 minute after burn time during back-to-back challenges.
No covering of mouth with tissue/napkin or some such. Wiping of face, nose, and/or mouth is acceptable.
Position
Name
Boxes Consumed
# Additional Attempts
# Total Points
No data available!
Peanut Brutal Challenge Vids