Maddy's Holy Cowlick Challenge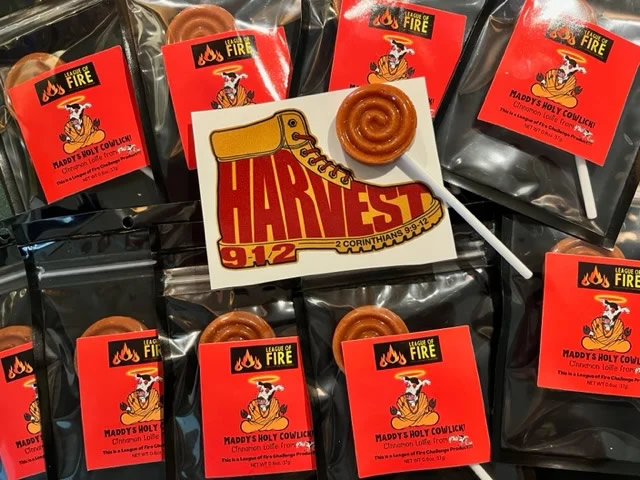 This is Maddy's Holy Cowlick! from Harvest912. A Cinnamon Lolly made with 7 Pot Primo Powder & 16 Mil SHU Extract. Think Fireball on Steroids!!
Important information about the creators Harvest912. A non-profit organisation – their mission is to deliver footcare, new boots, basic necessities and the love of God to those in need. To find out more check out harvest912.org
Challenge Rules:-
No food or drink for the duration of the Challenge.
You must video your challenge without edits & remain on camera at all times until the challenge is complete
Read the short disclaimer found at the bottom of leagueoffire.com/disclaimer clearly into the camera.
Maddy's Holy Cowlick Lolly must be opened from a sealed packet on screen & remain on screen until fully consumed.
To complete the challenge you must keep the Cowlick in your mouth for 10 minutes without spitting it out OR crunching it up.
During this time you can move it around in your mouth to help it dissolve.
No spitting or drooling – all saliva must be swallowed.
If the Cowlick dissolves completely before 10 minutes are up, show an empty mouth & you have also completed the challenge!
NOTE when doing multiples:
If the previous Cowlick Lolly was fully consumed within the 10 minute window you cannot wait more than 1 minute before starting the next one.
If the previous Cowlick Lolly is still partially intact at the 10 minute mark and you wish to attempt another, the original one MUST REMAIN in your mouth as you attempt the next. Again you cannot wait more than 1 minute before starting the next one.
LOF World Ranking Points:
8 points per Lolly endured/eaten
*Extra Bonus Points in ascending order for each consecutive Lolly endured/eaten in one sitting:
2 bonus point for the 2nd Lolly;
4 bonus points for the 3rd Lolly;
6 bonus points for the 4th Lolly and so on
Additional rules effective from 15 March 2023:
No spitting or drooling – if you're producing saliva, make sure you swallow it!
No waiting in excess of 1 minute after burn time during back-to-back challenges.
No covering of mouth with tissue/napkin or some such. Wiping of face, nose, and/or mouth is acceptable.
Position
Name
# Lollies
# Additional Attempts
# Total Points
No data available!
Maddy's Holy Cowlick Challenge Vids