Tube of Terror SPEED CHALLENGE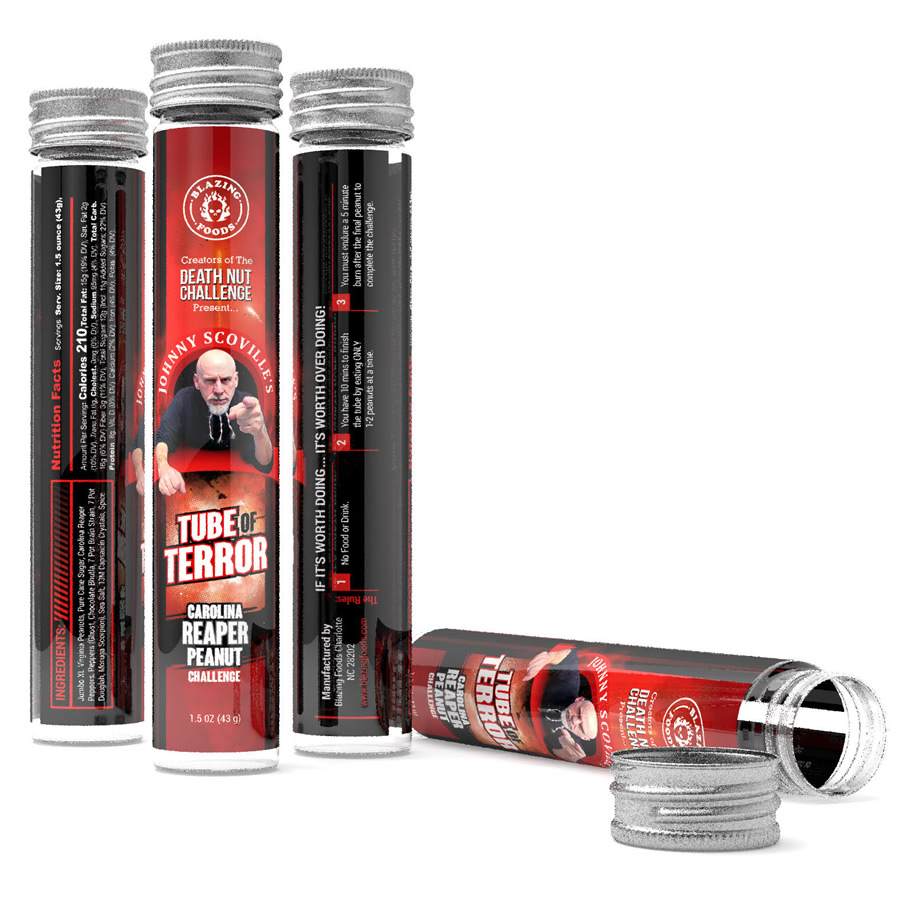 Developed by Blazing Foods for Johnny and his insane group of heat-seeking chili-heads… The Scoville Squad! The biggest challenge was making a tiny little peanut STOOOPID HOT. It required quite a bit of trial and error with countless revisions to get this product hot enough to tickle Johnny's heat tolerance.
It was finally locked in with a premium blend of the 6 hottest peppers on earth then kicked it up a notch with pure, all natural 13,000,000 SHU Capsaicin Crystals.
If it's worth doing, it's worth overdoing!!
The SPEED CHALLENGE Rules:
No food or drink while attempting the challenge.
You must remain on camera at all times until the challenge is complete.
Read the SHORT disclaimer at found at the bottom of leagueoffire.com/disclaimer clearly into the camera.
You must video your challenge without edits and use a suitable timer to record timings.
Open a SEALED Tube of Terror on camera.
Empty the contents so they are clearly visible (or keep them in the tube).
Start the clock & eat the nuts AS FAST AS YOU CAN.
After eating all the nuts you must endure a 5 minute afterburn
LOF World Ranking Points:
6 points when completed in 1 min 30 secs or LESS
5 points when completed in MORE than 1 min 30 secs
Additional rules effective from 15 March 2023:
No spitting or drooling – if you're producing saliva, make sure you swallow it!
No covering of mouth with tissue/napkin or some such. Wiping of face, nose, and/or mouth is acceptable.
Position
Name
Time Taken (Mins & Secs)
#Additional Attempts
# Total Points
No data available!
Tube of Terror SPEED CHALLENGE Vids