MOAB Challenge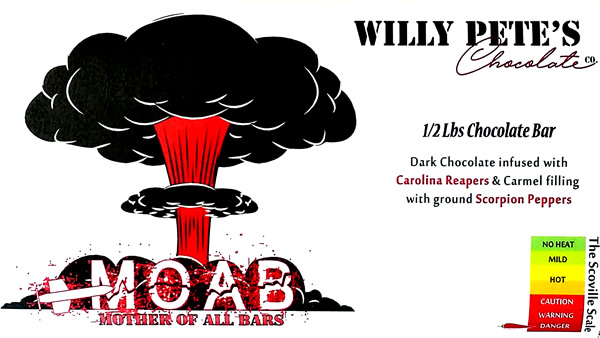 The MOAB is created by Willy Pete's Chocolate Co. LLC – a US veteran owned, hand-crafted, small batch chocolate company and this is the 1 bar challenge. Do you have what it takes to finish this bar?  This is the hottest bar to date. Not for the faint at heart. Two of the hottest peppers in the world are infused with a half pound of Willy Pete's creamy dark chocolate, and chewy caramel. This is truly the Mother Of All Bars!!!
RULES:  Must consume entire MOAB bar live on camera, with no liquid relief. MOAB bar must not be altered in any way (ie. melted, chopped up, frozen, turned into a milkshake etc).
LOF World Ranking Points:
5 points when completed in 3 minutes or LESS
4 points when completed in MORE than 3 minutes
Position
Name
Time Taken (Mins & Secs)
#Additional Attempts
# Total Points
No data available!