Death By Chocolate (Primotalii) Chug Challenge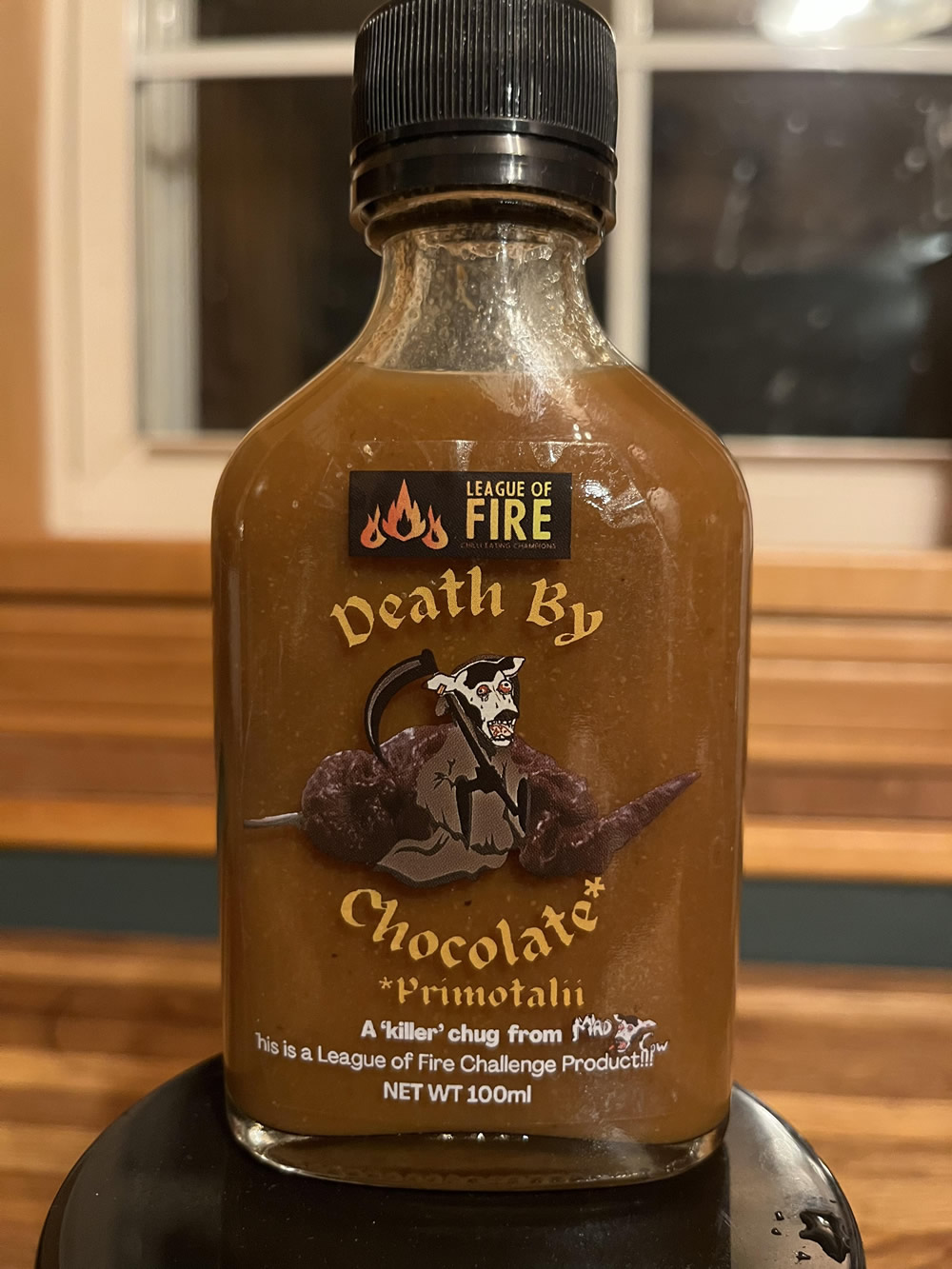 Test yourself or share the burn!!
This Chug Challenge from Mad Cow is a 'killer' chug made with Chocolate Primotalii's grown by Harvest912's friends at Deathridge's Peppers. It can be consumed solo or as a shared challenge (The Suicide Pact)!
WARNING: This product is extremely hot and should not be consumed by children or anyone with a low tolerance for chile pepper products. The intended use of this product is for League of Fire contestants. Consume at your own risk. 
CHALLENGE RULES:
Challenge Rules
No food, drink or relief for the duration of the Challenge.
You must video your challenge without edits & Participants must remain on Camera until the challenge is complete.
All participants must Read the League of Fire Disclaimer clearly into the camera.
The Chug must be opened and poured on screen.
Pour 50ml of sauce into each provided cup.
Consume 50ml Each for a shared challenge or 100ml for a solo challenge. See points below.
After consuming, All Participants show an empty mouth and then begin the afterburn (depends on which challenge you're doing – see below).
Once afterburn is complete, you're done!
LOF World Ranking Points:
Single Chug (50ml w/ 4 minute afterburn) = 2 points
Turbo Chug (whole 100ml bottle w/4 min afterburn) = 3 points
Hot Shots (50ml w/3 min afterburn; 2nd 50ml w/3 min afterburn) = 4 points
*Extra Bonus Points in ascending order for each consecutive FULL bottle (100ml) Chug in one sitting:
1 bonus point for the 2nd chug;
2 bonus points for the 3rd chug;
3 bonus points for the 4th chug and so on
Additional rules effective from 15 March 2023:
No spitting or drooling – if you're producing saliva, make sure you swallow it!
No waiting in excess of 1 minute after burn time during back-to-back challenges.
No covering of mouth with tissue/napkin or some such. Wiping of face, nose, and/or mouth is acceptable.
Position
Name
# Bottles Chugged
#Additional Attempts
# Total Points
No data available!
Death By Chocolate (Primotalii) Chug Challenge Vids