The SCOVILLE SLAMMER Chug Challenge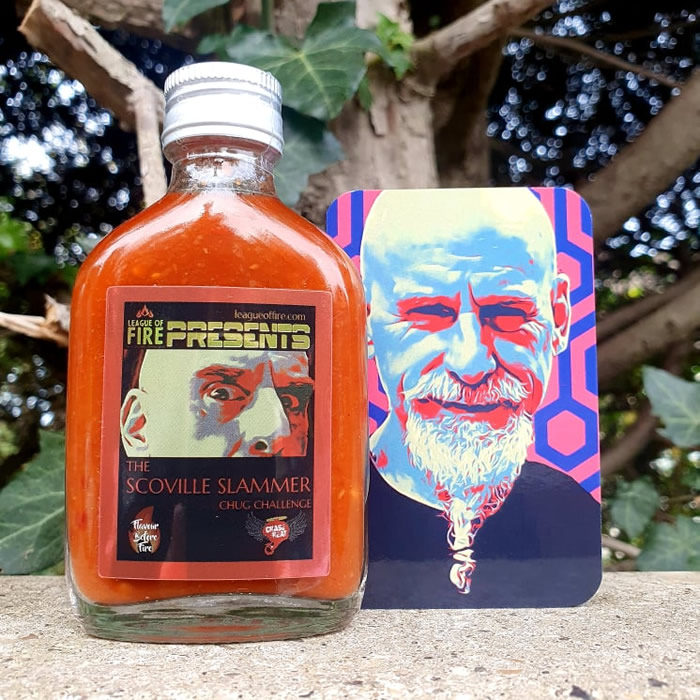 Johnny Scoville has been a huge inspiration to us and many Chilli Heads and now he features on our 2nd ever official 'League Of Fire Presents' range of Chug Challenges!
Expertly created by Marc Elliott from Flavour Before Fire, this chug challenge contains 44% super-hot peppers comprising of Carolina Reaper, Trinidad Scorpion, Hurtberry & Burmese Naga Peppers plus a small dose of blistering 13 Million SHU Extract!
Each one of these limited edition 50ml Chug Challenges comes with a collectible Johnny Scoville card.
The rules for this are the same as the original 'Turbo Chug' method. Simply down the entire contents then endure a 4 minute afterburn… You know the drill!
CHALLENGE RULES:
You must video your challenge without edits.
You must be seen opening the bottle seal!
Either pour the contents into a clear shot glass then chug OR chug the entire contents straight from the bottle!
Wait 4 minutes.
You have completed the challenge!
Submit your achievement & WELCOME TO THE LOF! You have gained 7 World Ranking points!
LOF World Ranking Points:
7 points for each bottle Chugged
*Extra Bonus Points in ascending order for each consecutive Chug in one sitting (observing the 4 min afterburn between each one):
1 bonus point for the 2nd chug;
2 bonus points for the 3rd chug;
3 bonus points for the 4th chug and so on
Additional rules effective from 15 March 2023:
No spitting or drooling – if you're producing saliva, make sure you swallow it!
No waiting in excess of 1 minute after burn time during back-to-back challenges.
No covering of mouth with tissue/napkin or some such. Wiping of face, nose, and/or mouth is acceptable.
Position
Name
# Bottles Chugged
#Additional Attempts
# Total Points
No data available!
The SCOVILLE SLAMMER Chug Challenge Vids