The KILLER QUEEN Guillotine Challenge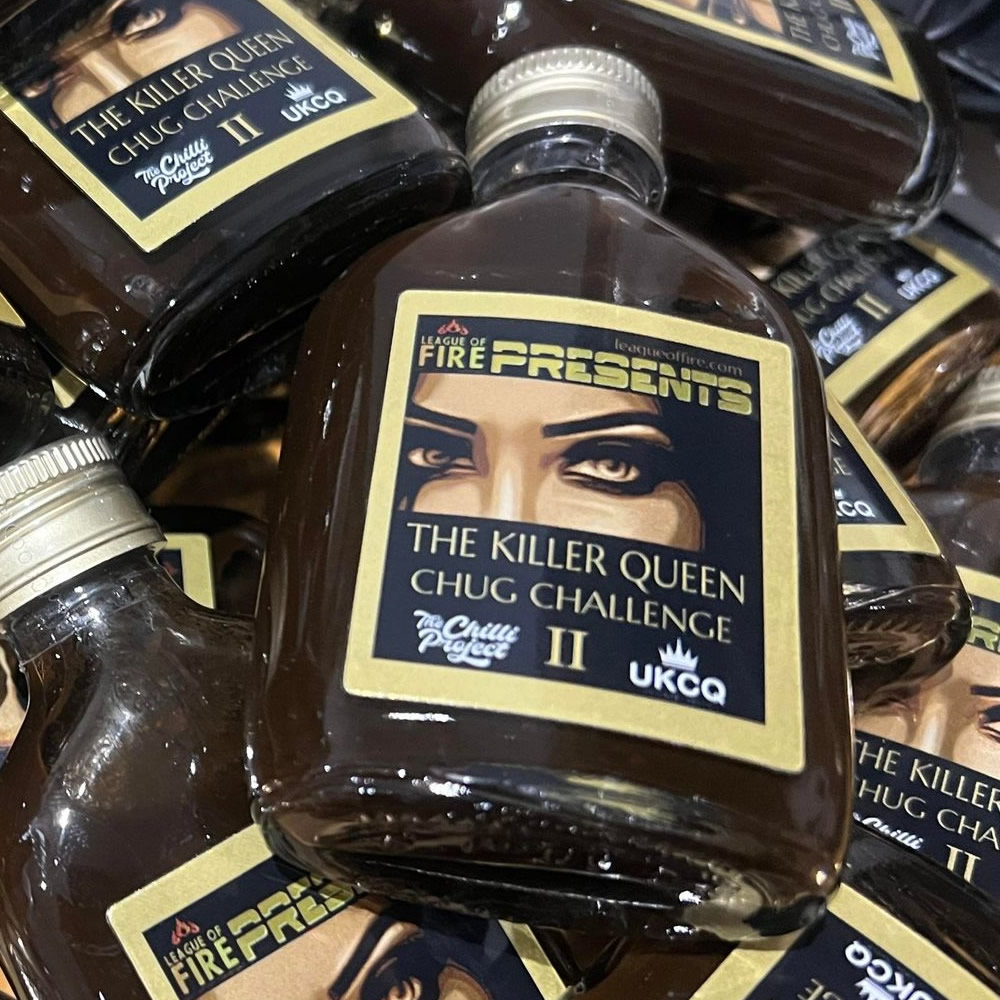 This is the KILLER QUEEN Guillotine Challenge – it's sure gonna sting but it'll all be over before you know it!
Basically it's a speed challenge – How many bottles of The KILLER QUEEN Chug v2 can you polish off in 1 solitary, single minute?
Just one thing – YOU HAVE TO USE A STRAW! The rules are simple:
Challenge Rules:
No food, drink or relief while attempting the challenge.
You must remain on camera at all times until the challenge is complete.
Read the SHORT disclaimer at the bottom of leagueoffire.com/disclaimer clearly into the camera.
STATE THAT YOU ARE UNDERTAKING THE KILLER QUEEN Guillotine Challenge and NOT the 'regular' KQ2 Chug Challenge.
You must video your challenge without edits.
You must be seen opening the bottle seal of EACH BOTTLE you are attempting. This can be done prior to start of the challenge or during the 1 minute time limit. Bear in mind that you risk forfeiting any unconsumed opened bottles for potential additional attempts.
You may wish to get your first bottle ready with a straw.
Set a 1 minute countdown and start sucking that straw!
After the first bottle is empty, repeat as necessary and/or just wait for the 1 minute to end.
After the 1 minute is up the challenge is complete!
Only COMPLETELY EMPTY bottles will count towards ranking!
LOF World Ranking Points:
6 points for each bottle consumed
*Extra Bonus Points in ascending order for each 3rd bottle consumed in one sitting:
2 bonus points for the 3rd bottle;
4 bonus points for the 6th bottle;
6 bonus points for the 9th bottle and so on
Additional rules effective from 15 March 2023:
No spitting or drooling – if you're producing saliva, make sure you swallow it!
No covering of mouth with tissue/napkin or some such. Wiping of face, nose, and/or mouth is acceptable.
Position
Name
# Bottles Consumed
#Additional Attempts
# Total Points
No data available!
The KILLER QUEEN Guillotine Challenge Vids