The KILLER QUEEN Chug Challenge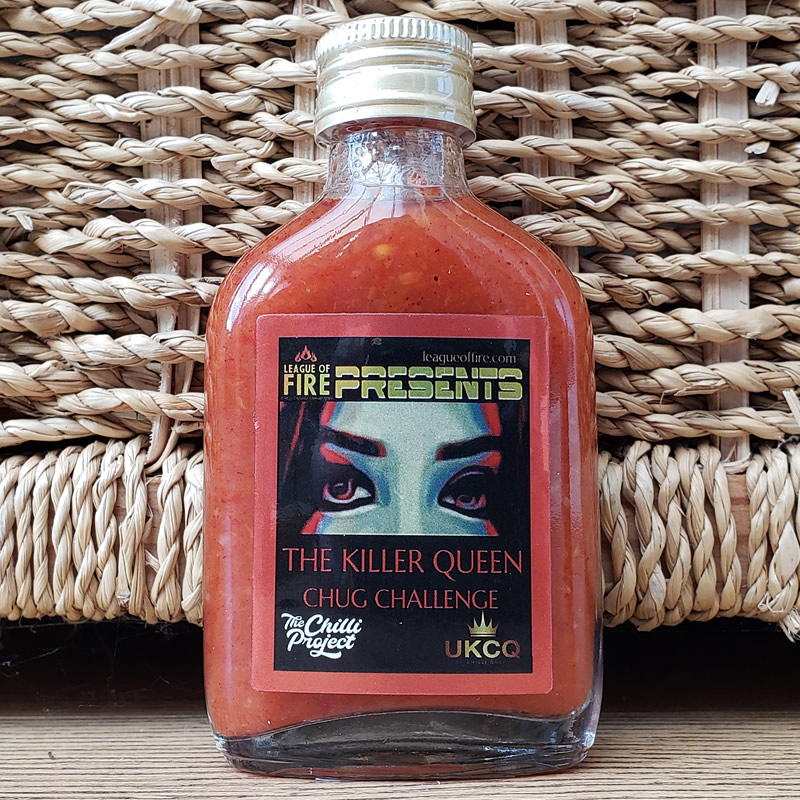 This is the FIRST EVER hot sauce to feature the 
UK Chilli Queen
! Shahina has been a huge inspiration to us and many Chilli Heads with her competitive chilli eating exploits and now it is the Queen herself who features on our first ever official 'League Of Fire Presents' range of Chug Challenges!
Expertly created by The Chilli Project, this chug challenge has been fermenting for 5 months! Yes this is 5 months in the making! The Chilli Project are a family run company from Surrey, UK and have been creating gourmet chilli products for over 8 years! We are delighted and honoured to partner with them!
Each one of these limited edition 50ml Chug Challenges comes with a collectible UKCQ 'Killer Queen' card, many of which have been signed by Shahina herself! These cards come in both a glossy, rounded edge deluxe finish as well as a rarer extra-thick, Mohawk Superfine luxury paper finish!
You must find a way of displaying the time on camera during filming. Take photos of the funniest and most distorted faces and upload to social media using #chugface and tag us! You must be prepared for our L.O.F. team to take screen grabs from your videos for our social media. Please also take time to carefully read the disclaimers before taking the challenge.
The rules for this are the same as the original 'Turbo Chug' method. Simply down the entire contents then endure a 4 minute afterburn… You know the drill!
Challenge Rules:
No food or drink while attempting the challenge.
You must remain on camera at all times until the challenge is complete.
Read the SHORT disclaimer at the bottom of leagueoffire.com/disclaimer clearly into the camera.
You must video your challenge without edits.
You must be seen opening the bottle seal!
Either pour the contents into a clear shot glass then chug OR chug the entire contents straight from the bottle!
Wait 4 minutes.
You have completed the challenge!
LOF World Ranking Points:
9 points for each bottle Chugged
*Extra Bonus Points in ascending order for each consecutive Chug in one sitting (observing the 4 min afterburn between each one):
2 bonus points for the 2nd chug;
4 bonus points for the 3rd chug;
6 bonus points for the 4th chug and so on
Additional rules effective from 15 March 2023:
No spitting or drooling – if you're producing saliva, make sure you swallow it!
No waiting in excess of 1 minute after burn time during back-to-back challenges.
No covering of mouth with tissue/napkin or some such. Wiping of face, nose, and/or mouth is acceptable.
Position
Name
# Bottles Chugged
#Additional Attempts
# Total Points
No data available!
The KILLER QUEEN Chug Challenge Vids