Chilli Of The Valley's LSD (Lick, Shoot, Devour) Challenge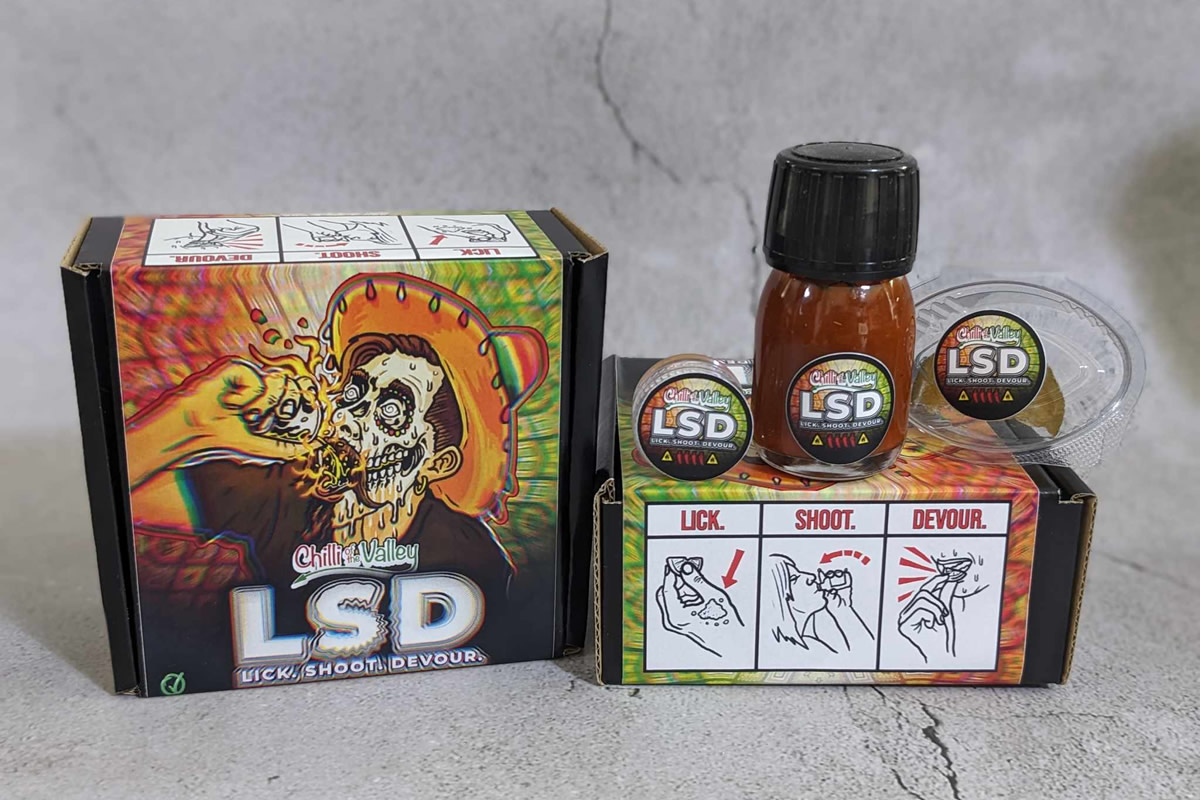 This is Chilli Of The Valley's LSD (Lick, Shoot, Devour) Challenge – from the evil genius that is Dan Reed.
This is basically a tequila slammer experience, but without the alcohol! Instead, a LOT of Chilli!
The process…
Open the salt container and pour onto back of hand then lick (Lick).
Open 30ml shot bottle of sauce and consume in one gulp. Traditional tequila drinkers may want to slam it on the table after consuming as a nod to the original concept. This is wholeheartedly encouraged 😊 (Shoot).
Eat the flesh out of the chilli infused candied lime (Devour).
Start a counter and wait 3 minutes.
Bosh. Done
LOF CHALLENGE RULES:
No food, No drink, No relief.
Read the included disclaimer which can also be found >>>HERE<<<.
Follow the Process above.
When the 3 minutes are up you have completed the challenge.
Repeat as necessary.
LOF World Ranking Points:
6 points for each Box of LSD consumed
*Extra Bonus Points in ascending order for each Box of LSD consumed in one sitting (observing the 3 min afterburn after each one):
1 bonus point for the 2nd Box of LSD;
2 bonus points for the 3rd Box of LSD;
3 bonus points for the 4th Box of LSD and so on
Additional rules effective from 15 March 2023:
No spitting or drooling – if you're producing saliva, make sure you swallow it!
No waiting in excess of 1 minute after burn time during back-to-back challenges.
No covering of mouth with tissue/napkin or some such. Wiping of face, nose, and/or mouth is acceptable.
Position
Name
# Boxes of LSD
#Additional Attempts
# Total Points
No data available!
Chilli Of The Valley's LSD (Lick, Shoot, Devour) Challenge Vids