Alpha and Omega CAP GUN CHALLENGE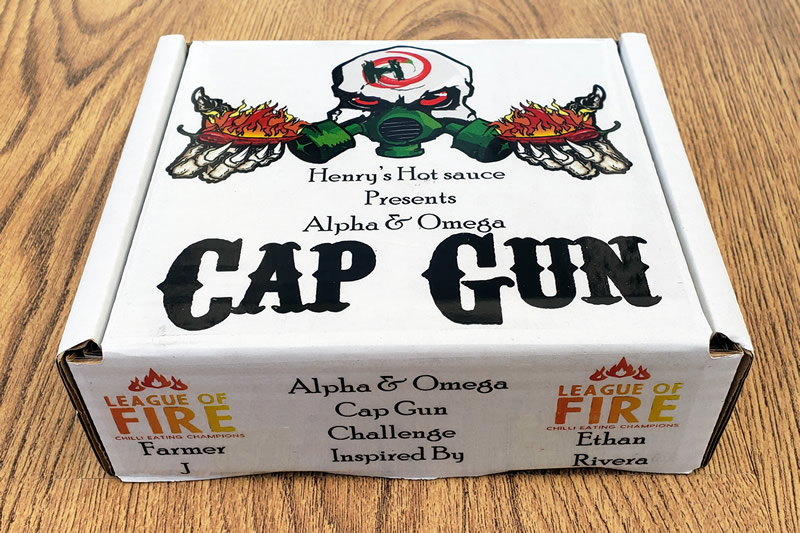 The Alpha & Omega Cap Gun Challenge is Here!
Created by Shawn Overthrow of Henry's Hot Sauce and inspired by Farmer J & Ethan Rivera.
In the Box you will find:
One Spicy Sauce, One Spicy Tincture, One Spicy Powder, a Shot Glass and a Spoon!
Alpha & Omega Cap Gun Rules:
You must keep the contents of the Cap Gun Challenge in full view of the camera at all times
You must open the bottles and tins on camera
You must open your chug sauce and pour half into the shot glass provided
Next take the spoon provided and load it up full of Powder
Add 3 drops of spiced Tincture on top of the Powder
Step 1 – Consume the powder and wait 30 seconds
Step 2 – Chug the shot of sauce
Step 3 – Complete a 3 minute After Burn
Step 4 – Load up again and repeat the steps
LOF World Ranking Points:
5 points per box of Alpha & Omega CAP GUN CHALLENGE consumed
*Extra Bonus Points in ascending order for each consecutive challenge consumed in one sitting (observing the 3 min afterburn between each one):
1 bonus point for the 2nd box;
2 bonus points for the 3rd box;
3 bonus points for the 4th box and so on
Position
Name
# Boxes Consumed
#Additional Attempts
# Total Points
No data available!
Alpha and Omega CAP GUN CHALLENGE Vids