League Of Fire – Chilli Eating Champions
---
The League of Fire is the FIRST EVER league table-based website dedicated to Chilli-Eating Enthusiasts! Discover who's who in the Chilli-Eating World, and see the first ever rankings of Chilli-Eating Champions from around the globe!
Chilli-Eating Contests and Chilli Challenges have exploded around the world and have captured the interests of chilli communities globally. You can see multiple videos uploaded to social media at the click of a button. Our team wants these brave chilli-eaters to be immortalised in the history of hot-headed craziness.
We want those brave souls who suffer for our pleasure to be recognised. We also see this as a way of acknowledging chilli-eating contestants who treat chilli-eating comps as a sport and dedicate considerable time and effort into achieving their record. Our aim is to put a spotlight on all chilli-heads and provide a platform to showcase their achievements.
Below are the current top ten chilli-eaters around the world. We have a complex and meticulous ranking system which is based on a culmination of points across all our leagues. The data we compile through our intricate points award system incorporating all our leagues is what determines the positions of all the players. The list is dynamic and is by no means definitive. It will change according to new challenges undertaken and entered into our league tables. To make L.O.F. as inclusive as possible, we are aiming to introduce additional league tables for other popular challenges from around the world for which the corresponding successful chilli-heads will be entered retrospectively. The points will be re-calculated as each new table is introduced and the positions in the top ten adjusted accordingly.
We urge chilli-heads to contact us with details of their merits to qualify for entry into our league tables. You will need to apply on our website and fill out the relevant forms so we can analyse all the data provided. You never know, you could be one of our top ten soon.
Well done to our current TOP 10 in the WORLD!
The League Of Fire WORLD CHAMPION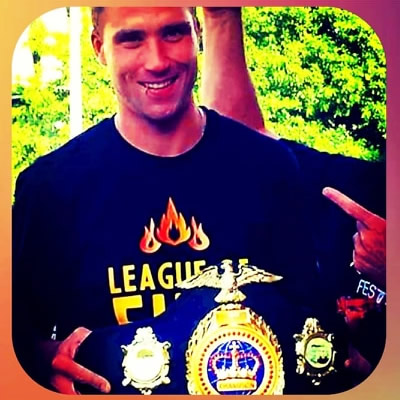 ---
The World Champion holds our prestigious Title Belt and is considered the toughest Chilli-Head on the PLANET!
We want to make this fair and as inclusive as possible. Initially, we had planned to have just the one league for chilli-eating contests but seeing the interest and how many people worldwide wanted to be a part of L.O.F. who were unable to take part in a comp easily, we decided to evolve the website and include more leagues so that more people could participate. And now, we plan to introduce additional leagues to further broaden the scope for people to be involved. So overall, it won't be just about how many contest wins one has or how many reapers one can eat, it will be a sweeping rating so that everyone has a fair chance at being included in the L.O.F. Top 10.
Check out some of the league tables we've created for Regular Chilli Eating Contests, Johnny Scoville's Tube of Terror & Chili Cherry Nightmare Challenge, The L.O.F. Reaper Challenge, The L.O.F. Chug Challenge (original & v2), Willy Pete's MOAB Challenge, Hot Dang Show BITES Challenge & NEMESIS Bar Challenge, the Fuego Box White Lightning Choco Challenge, the World's Hottest Corn Chips Challenge, the Paqui #OneChipChallenge (original & v2) and the Rummy Bears Reaper Challenge.
This is just the beginning!
The World's Top 10 Ranked Chilli Champions