Fuego Box Choco Challenge 2.0 White Lightning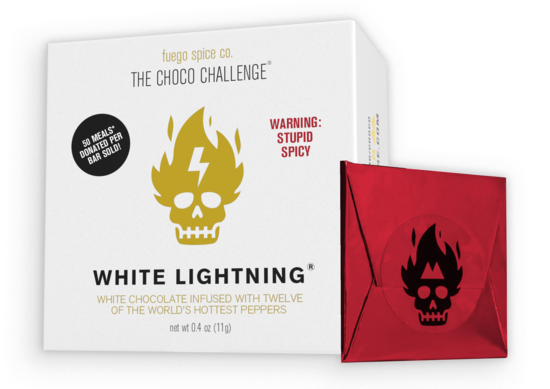 THIS LEAGUE TABLE HAS BEEN ARCHIVED
AND IS NO LONGER ACCEPTING SUBMISSIONS
THE CHOCO CHALLENGE® 2.0 IS THE WORLD'S SPICIEST WHITE CHOCOLATE BAR
FOR EVERY BAR PURCHASED, FUEGO BOX DONATES 50 MEALS to FEEDING AMERICA®!
FIRED UP BY A DEADLY 12-PEPPER BLEND FROM SMOKIN' ED CURRIE'S SECRET GARDEN
LOF World Ranking Points:
1 point per Choco Challenge Bar
*Extra Bonus Points in ascending order for each consecutive 10 Bars eaten in one sitting:
1 bonus point for the 10th Bar;
2 bonus points for the 20th Bar;
3 bonus points for the 30th Bar and so on
Additional rules effective from 15 March 2023:
No spitting or drooling – if you're producing saliva, make sure you swallow it!
No waiting in excess of 1 minute after burn time during back-to-back challenges.
No covering of mouth with tissue/napkin or some such. Wiping of face, nose, and/or mouth is acceptable.
Position
Name
# Bars Eaten
#Additional Attempts
# Total Points
No data available!
Fuego Box Choco Challenge 2.0 White Lightning Vids