BITES Challenge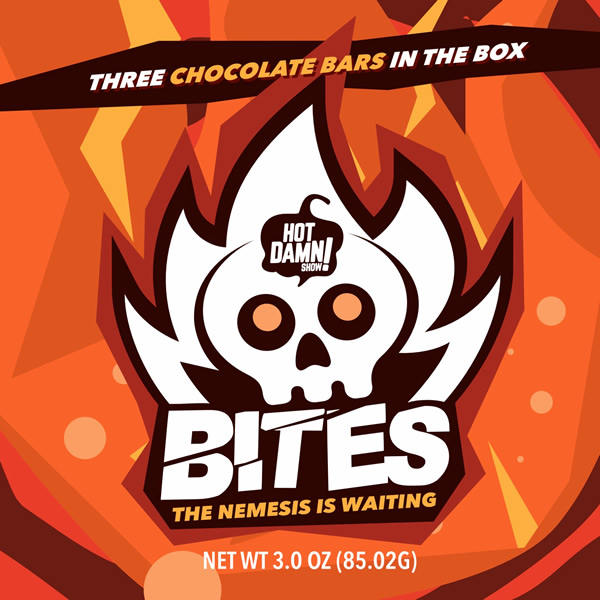 THIS LEAGUE TABLE HAS BEEN ARCHIVED
AND IS NO LONGER ACCEPTING SUBMISSIONS
BRAVE ENOUGH TO TAKE ON THE BITES CHALLENGE? HERE ARE THE RULES…
FIRST AND FOREMOST

NO DRINK AND CURSING AT ALL FOR THE ENTIRE CHALLENGE.
You got 2 minutes to savour each bar. You cannot start the next bar until that time is up.
But start with the Purple wrap (habanero) first, Red wrap (ghost pepper), and Black wrap (Carolina Reaper) last.
Complete all 3 die-licious Chocolate Bars.
5 MINUTES AFTER-BURN or WAIT FOR NEMESIS!
Each chocolate bar is 1 oz (3 oz total) and contains layers of peanut butter and toffee bits.
Milk Chocolate – Habanero Peppers
White Chocolate – Ghost Peppers
Dark Chocolate – Carolina Reapers
Caution: Contains Nuts/Peanuts/Almonds, Milk & Soy.
GOOD LUCK! TRUST US, YOU GONNA NEED IT.
LOF World Ranking Points:
3 points per box of 'BITES'
2 points per box of 'BITES' completed with misunderstood rules
*Extra Bonus Points in ascending order for each consecutive box of 'BITES' eaten in one sitting:
1 bonus point for the 2nd box of 'BITES';
2 bonus points for the 3rd box of 'BITES';
3 bonus points for the 4th box of 'BITES' and so on
Additional rules effective from 15 March 2023:
No spitting or drooling – if you're producing saliva, make sure you swallow it!
No waiting in excess of 1 minute after burn time during back-to-back challenges.
No covering of mouth with tissue/napkin or some such. Wiping of face, nose, and/or mouth is acceptable.
Position
Name
# Boxes of BITES Eaten
#Additional Attempts
# Total Points
No data available!